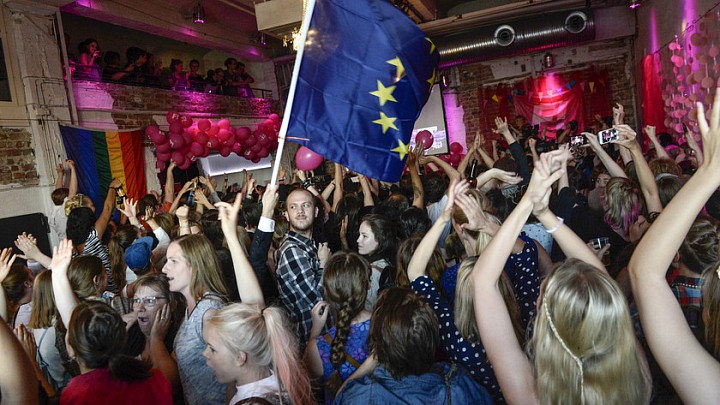 Photographer: Maja Suslin/AFP/TT News Agency/Getty Images

Party workers at the Swedish Feminist Initiative celebrate on May 25, 2014, after exit polls that make it Sweden's second biggest party in the European Parliament elections.
Backed by Benny Andersson of pop legends ABBA, Sweden's feminist party may make history by becoming the first political group to get into a nation's legislature with a primary goal of abolishing sexism.
Feminist Initiative, led by Gudrun Schyman, wants a new definition of gross domestic product that includes the unpaid work women do at home. It also targets higher taxes to bridge the pay gap for women, a six-hour workday and an even split on parental leave. Polls show the party may reach the 4 percent threshold needed to get into parliament.
"It's a clear alternative for left-wing voters," said Lena Waengnerud, professor at Gothenburg University. "Even though Sweden, compared with a lot of other countries, has come far with equality, we're not at all finished, and in the last few years not a lot has happened."
Sweden, which in 2006 ranked the most gender equal nation on earth, has slipped to fourth after Iceland, Finland and Norway, according to the World Economic Forum's Global Gender Gap Report. The development jars with the self-perception of the average voter in the largest Nordic economy. A Sifo poll released this month showed 47 percent of Swedes consider themselves feminists, up from 33 percent in 2010.
"There's been a myth in Sweden that we've made such big strides that we don't have to talk about it," Schyman said in an interview in June. "It's very obvious that there's a gender contract in society, which in various ways treats women as if they're worth less."
Dragon Tattoo
Feminist Initiative won 5.5 percent of Swedish votes in May elections to the European parliament and has polled as high as 4 percent this month ahead of the Sept. 14 election. An average of two polls released today showed the opposition bloc, which the party backs, winning the election with 49.2 percent support. The Conservative bloc led by Prime Minister Fredrik Reinfeldt is set to get 38.1 percent, as voters blame his tax cuts for eroding welfare.
According to Waengnerud, Feminist Initiative's supporters are mainly young women who live in big cities. In parts of Stockholm's Soeder district -- home to Lisbeth Salander in Stieg Larsson's best-selling crime trilogy, "The Girl With the Dragon Tattoo" -- the party won more than 20 percent in the European parliament election.
Anjaerika, an actress and singer-songwriter, joined Feminist Initiative about a year ago and in April was part of a group of artists that recorded a party fundraising album.
Pop Funds
"I don't want to live in a patriarchy," she said in an interview. "I've lived with that my whole life, so that's my normal life, but I have felt for such a long time this injustice, that I'm not being treated as a human being in the same way that men are in both large and small things in life."
Its best-known supporter is ABBA's Andersson, famous for hits including "Money, Money, Money" and "Gimme! Gimme! Gimme! (A Man After Midnight)." The pop-idol has since 2009 donated about 1 million kronor ($145,000) to the party, it says on its website.
Andersson, who declined to be interviewed, said in a video posted on the party's website, that being a feminist means being conscious of the "structural injustices that exist between the sexes."
"It then feels very good that there is a party that puts equality of all at the top of the agenda," he said. "You know who I mean. Vote for them. Don't waste your vote."
Burning Money
Schyman, well-known in Sweden from her days as head of the Left Party, is adept at gaining attention. In 2010, she burnt 100,000 kronor in bills to raise awareness around the fact that women earn less than men. Sweden's National Mediation Office calculates women make 5.8 percent less, on average, than their male colleagues, taking profession, education, age and working hours into account.
Schyman has a flair for teaming up with people who know how to make waves. The money-burning event was funded by advertising agency Studio Total, which drew international attention after dropping hundreds of teddy bears over Belarus to promote democracy in Europe's last dictatorship.
Mainstream politicians have been quick to ensure they don't lose votes over gender politics. Finance Minister Anders Borg has declared himself a feminist and Social Democratic leader Stefan Loefven, who polls show will be Sweden's next prime minister, was among a number of leading politicians to attend a Nordic Forum conference on sex equality in Malmoe in June. The Swedish Academy will in its 2015 dictionary add a gender neutral pronoun "hen" in an effort to cleanse the language of any hidden forms of sexism.
Organized Left
Examples of feminism have permeated the broader political debate. Both the government and opposition have threatened companies with legislation unless more women make it onto corporate boards.
Swedish politicians "have definitely discussed feminism and equality to a significantly larger extent" during this election campaign, said Magnus Hagevi, associate professor at Linnaeus University in Vaexjoe, Sweden. "There's also an organized and established left, left of the Social Democrats, that's provided a hotbed for these type of policies."
Sweden has more women in the labor market than any other European Union country and about 45 percent of elected officials are female, according to government data. Yet women are still outnumbered three-to-one on corporate boards.
Besides redefining GDP, Feminist Initiative wants to impose a financial transactions tax, raise corporate, carbon-dioxide and wealth taxes and increase costs for meat production. It says the measures will in part be funded by less defense spending.
Punishing Rapists
Proceeds will pay for better child care, free public transport and higher pay for teachers. The party also plans to raise unemployment and sick-leave benefits. Policies will include making it easier to convict accused rapists and target better rights for gays and transsexuals.
Reinfeldt, whose speech at a campaign rally last month was interrupted by topless women protesting him declining to declare himself a feminist, this month became the first premier to attend Stockholm Pride as one of 60,000 parading for gay rights. Loefven of the Social Democrats was also there.
Feminist Initiative may prove crucial for the opposition to govern effectively as many polls show the bloc won't win an outright majority without their help.
"'We'll support the election of a new government," Schyman said. "We don't think the government that's now in power has shown the way when it comes to working for equality."
Article