SHORT than LONG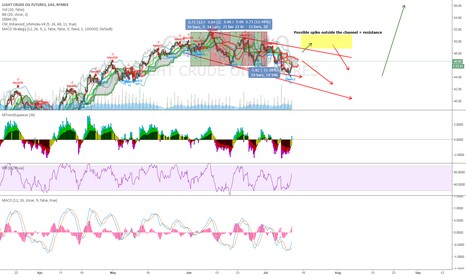 After Brexit the market pull-back give us the hope that everything is alright and the news seems as sugar coated as possible, as NFP increase. But… if you take a look at bond+OIL+gold markets, something creepy is coming. Looking at the charts, there is much more that meets the eye. Information is an excellent fear product that create the panic, meanwhile the big sharks are ready for the showtime. A downtrend channel is going deeper and the crowds will follow suit to 26/20$ target. What are they missing? Suppliers!!! All have something in common: profit!
Algeria: where is the President? Almost disappeared during his in-out hospital session and the local élite is suffocating the opposition. The fight for OIL control will start with the emminent death of President, leaving the country politically unstable.
Nigeria: turbulence / attacks will be escalated in Niger Delta and a dialoge between the establishment and rebels would be impossible. As a result we will foresee a supply interruption.
Venezuela : the economy is collapsing and the chaos will disrupt the oil production.
Brasil: violent protests and political instability won't help the Brazilian state-owned giant Petronas to findsolution for the huge debts, forcing it to face bankruptcy problem.
Iran: welcome back to the game? US and Saudi Arabia won't let Iran play safe and we all know it is to find an excuse to attack other countries. ISIS? Nuclear weapons? What else? Creativity has no limits and the dangerous competitor would be forced to face the reality: someone else is ruling the petrolium market.
Saudi Arabia: it spends more than it earns. Budget? It is not a known word by the Prince. The
investment fund won't be for the post OIL era: they need an urgent plan before, because the cut-throat price
competition with the US hit also them.
US : shell-oil is unsustainable without 50-60$/ barrel. Without even considering the huge loss since price
drop, they have already reunited their partners at the international conspiracy table. The Trump presidency
will shake up the political music chair establishment and won't improve the relationship with the Chinese, augmented the fears among the alliances.
Conclusion: the apparent oversupply will drag down the price, but don't catch the falling knife. There is a possible spike+ resistance zone and down again. The sum of the event will shot the price to new high. Be right and sit tight: the roller coaster has just begun.

I am here to improve my languages, financial knowledge and technical analysis. Please feel free to contact me to help me achieve my goals ;) any support, sharing information and comment would be very appreciated. Thanks!