Lulu has been bullish throughout 2016. When we look at the weekly chart, we can see that price action has been essentially sideways for several years. This year's bull trend has brought price back to the resistance area of this consolidation range. 

LULU Weekly Chart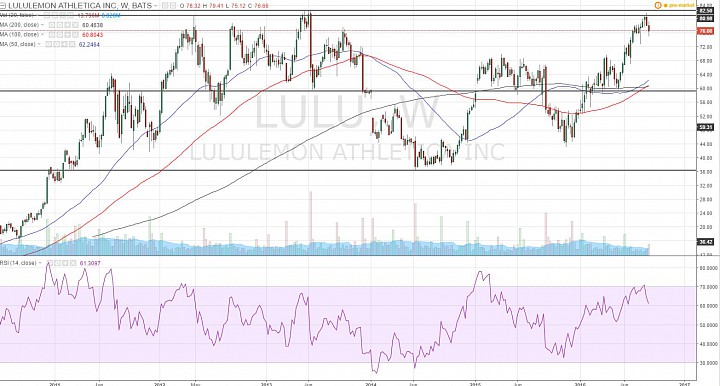 (click to enlarge)
Resistance:
- As we can see, price retreated in the past couple of weeks after LULU hit the range resistance around 81-82.50. 
- The RSI has also turned down from the overbought area. 
Bearish targets:
- I think we have to limit our bearish target coming off of this resistance.
- The overall mode in the long-term is bullish-neutral, so our bearish outlook should be limited to the medium-term. 
- The 68.00 area is a key support/resistance pivot area that we should monitor for buying. 
- The most aggressive bearish outlook should be 60.00, which is the middle of the multi-year range.
- Also monitor the RSI to see if it will turn up before falling below 40. This would indicate development of bullish momentum. 
Bullish scenario:
- If price can hold above 60 on a major retracement, LULU still has a bullish bias.
- The 82.50 resistance looks vulnerable to me.
- After some short to medium-term consolidation under the 82.50 resistance, I believe LULU has a good chance of plowing through it. 

Will that happen this year?