Oil prices legged lower in the last few minutes as Italy's largest energy company ENI has made a series of rather major announcements. The company plans to sell $8bn in assets, slash capex by 17%, and suspednds buybacks. But perhaps most worryingly for the oil-patch, ENI plans to increase production 3.5% each year until 2018 as the race to the bottom in energy markets continues.
*ENI PLANS TO SELL $8BLN IN ASSETS OVER NEXT 4 YEARS
*ENI WILL CUT CAPEX OVER NEXT 4 YEARS BY TOTAL OF 17%
*ENI SAYS NEW PROJECTS AVERAGE BREAKEVEN AT $45/BBL (BRENT)
*ENI SEES E&P PRODUCTION INCREASING 3.5% A YR IN 2015-2018
The buy-back plan is suspended. It will assess its reactivation when the strategic progress and the market scenario allow.
It appears the presentation was leaked early, which tumbled the shares and was halted... when it re-opened it was down over 6%...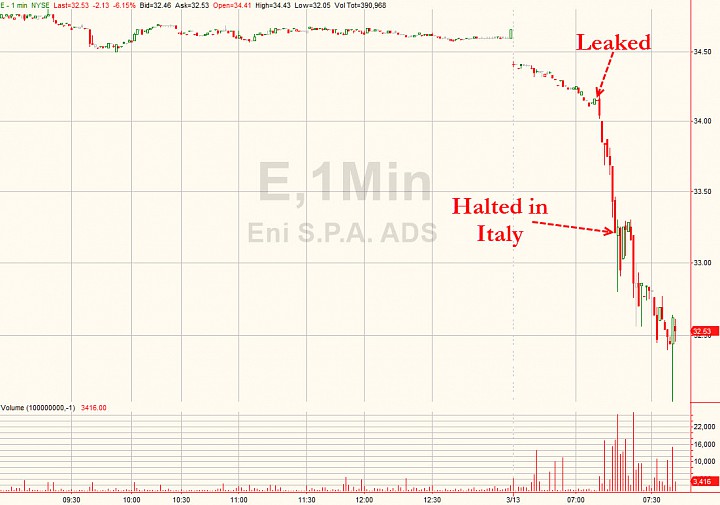 And crude oil prices also began tyo fall as the production raise was leaked...