Ford Motor Co. (NYSE: F) said Wednesday that its net income rose 63% to $1.6 billion in the third-quarter, a gain powered by strong truck sales in the United States, year-over-year cost reductions, improvements in Asia and South America, and some helpful tax news.
On an adjusted basis, Ford earned $0.43 per share, up from $0.26 per share in Q3 2016.
Ford earnings: The raw numbers
| Metric | Q3 2017 | Q3 2016 | Change |
| --- | --- | --- | --- |
| Revenue | $36.5 billion | $35.9 billion | 1.7% |
| Vehicles shipped (nearest thousand) | 1,504,000 | 1,530,000 | (1.7%) |
| Adjusted pre-tax income | $2.0 billion | $1.4 billion | 43% |
| Automotive operating margin | 5% | 3.3% | 1.7 ppts |
| Net income | $1.56 billion | $957 million | 63.4% |
| Adjusted earnings per share | $0.43 | $0.26 | 65.4% |
Data source: Ford Motor Company. "Adjusted" figures exclude the effects of special items. Ford took a total of $217 million in charges in the third quarter, most due to worker layoffs at several factories. 
How Ford's business units performed in the third quarter
Here's a look at how each of Ford's business segments performed. All financial results in this section are presented on an operating, pre-tax basis. 
North America
Ford North America earned $1.7 billion in Q3, up 33% from a year ago. Strong sales of the highly profitable F-Series pickups (up 14% in the quarter) helped drive that gain, as did cost improvements. (Ford's results in the year-ago period were hampered by a costly recall and spending related to the launch of its all-new Super Duty pickups.)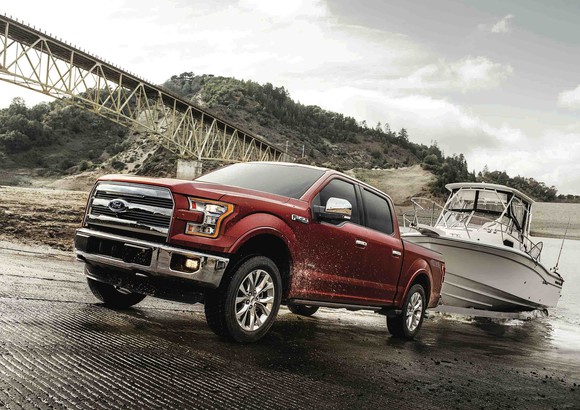 Another good quarter for Ford's F-Series pickups helped keep profits and margins strong. Image source: Ford Motor Co.
Ford's operating margin in North America, a widely watched number, was 8.1%, up from 5.8% a year ago. That's in line with results from domestic rivals General Motors (NYSE: GM) (8.3% in the third quarter) and Fiat Chrysler Automobiles (NYSE: FCAU) (8% in the third quarter). 
South America
In South America, Ford lost $158 million, an improvement from the $295 million it lost in the year-ago period. Stronger sales and improved pricing helped, though they were offset somewhat by higher commodity costs. But the big story is that key markets in the region (Brazil and Argentina) are still in the early stages of recovering from steep recessions. 
Europe
Ford lost $86 million in Europe, down from a $138 million profit a year ago. Management attributed the drop to Brexit-related effects (particularly around exchange rates), higher commodity costs, and the ongoing ramp-up of production of the all-new Fiesta, its best-seller in the region. Sales in Europe fell 7% in the quarter, a drop more than explained by tight supplies of the new Fiesta.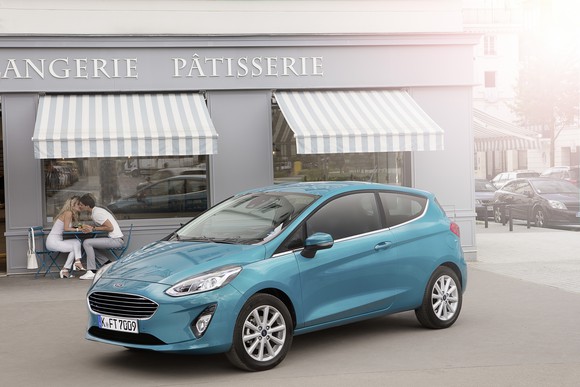 Tight supplies of the all-new Fiesta hurt Ford's sales in Europe in the third quarter. Image source: Ford Motor Company.
Middle East and Africa
Ford's newest regional business unit lost $60 million in the third quarter, an improvement over the $152 million it lost a year ago. Lower sales volumes drove a 17% year-over-year drop in revenue, but favorable exchange-rate moves and cost improvements more than offset the effects of that decline. 
Asia Pacific
Ford's Asia Pacific region includes its increasingly important operation in China. The unit earned $289 million, up sharply from a $131 million profit a year ago. Operating margin improved to 7.9% from 4.3% in the third quarter of 2016. Higher sales, cost improvements, and the continued success of the Lincoln luxury brand in China helped drive that gain. But it was offset somewhat by continued pressure on the pricing of Ford-brand vehicles in China due to competition from lower-cost domestic Chinese automakers.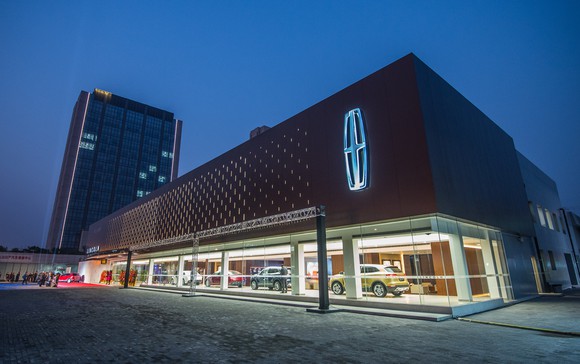 A Lincoln dealer in Shanghai. Lincoln's growth in China has been a good story for Ford. Image source: Ford Motor Company.
Ford's joint ventures with Chinese automakers generated a total of $241 million in equity income in the quarter, down from $320 million a year ago. Ford's margin in China was 12.2%, down from 13.4% a year ago on a 2.4% drop in sales and those pricing pressures. 
Ford Credit
The automaker's in-house bank earned $600 million in Q3, up 6% from a year ago, helped by stronger-than-expected used-car values that boosted income from the sale of off-lease vehicles. Net receivables rose 8% to $138 billion, driven in large part by business growth in China. Credit indicators remained strong, with little change from a year ago.
Ford Credit's U.S. lease penetration was 19%, up just slightly from a year ago and still well below the industry average (28%). 
About that tax news
Ford was able to use tax credits related to losses at its overseas business units to cut its taxes by about $266 million in the quarter, according to CFO Bob Shanks. Similar tax breaks gave Ford a $421 million gain in the second quarter of 2017.
Thanks to those tax credits, Ford's adjusted effective tax rate in the third quarter was just 11.8%, down significantly from the 31.9% it paid in 2016.
Cash flow, debt, and available liquidity
Ford had $1.7 billion in negative operating cash flow related to its automotive business, which it attributed primarily to year-over-year differences in the timing of some major expenditures. Through the first three quarters of 2017, Ford's operating cash flow was negative $1.4 billion. 
Not surprisingly, those outflows had an impact on Ford's cash reserves. As of Sept. 30, Ford had $26.1 billion in cash and equivalents, down from $27.5 billion at the end of 2016. It had another $10.9 billion in available credit lines for a total of $37 billion in liquidity available to its auto business.
Looking ahead: Full-year guidance
Ford tightened up its expectations for the full year. It now expects:
Adjusted earnings per share between $1.75 and $1.85. It had previously guided to a wider range, between $1.65 and $1.85. (2016 result: $1.76).
Adjusted effective tax rate of about 15%. (2016: 31.9%).
Revenue from its auto business about equal to the $141.5 billion it generated in 2016.
Automotive segment operating margin lower than 2016 (6.7%).
Automotive operating cash flow to be positive, but lower than 2016 ($6.4 billion). 
10 stocks we like better than Ford
When investing geniuses David and Tom Gardner have a stock tip, it can pay to listen. After all, the newsletter they have run for over a decade, Motley Fool Stock Advisor, has tripled the market.*
David and Tom just revealed what they believe are the 10 best stocks for investors to buy right now... and Ford wasn't one of them! That's right -- they think these 10 stocks are even better buys.
Click here to learn about these picks!
*Stock Advisor returns as of October 9, 2017
John Rosevear owns shares of Ford and General Motors. The Motley Fool owns shares of and recommends Ford. The Motley Fool has a disclosure policy.