In a previous post about getting ready to buy USD/JPY, I was looking for a dip to buy on.
This week, the dip came after a failure to clearly break through 102.70, the Feb. high made last week.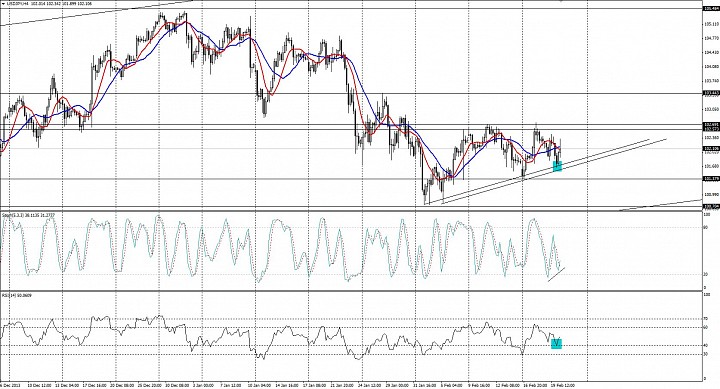 (USD/JPY 4H chart: cilck for full size)
Bullish trade:
I got in a bit early, during the 2/19 session, the market has made a lower low since. However, I have my stop below 101.38 so the position is still open. 
There was a S20-R40 combination (stochastic at 20, RSI at 40), but if you have followed my previous posts, you understand this is observed during uptrends. In the 4H time-frame, there is no real uptrend, so the combination is not as strong, but should not be completely discredited neither.
Triangle:
The challenge remains to be resistance in the 102.60-70 area. 
The ability to support higher lows while the highs have been more or less the same for 3 times creates an ascending triangle. This is a consolidation pattern with a slight bullish tilt. 
Failure:
If the market pushes below 103.38 however, I will have to wait for further development, and I would prefer to enter lower, closer to 101, where USD/JPY will start to challenge a projected rising support area that goes back a year to Feb. 2013, as seen in the daily chart below: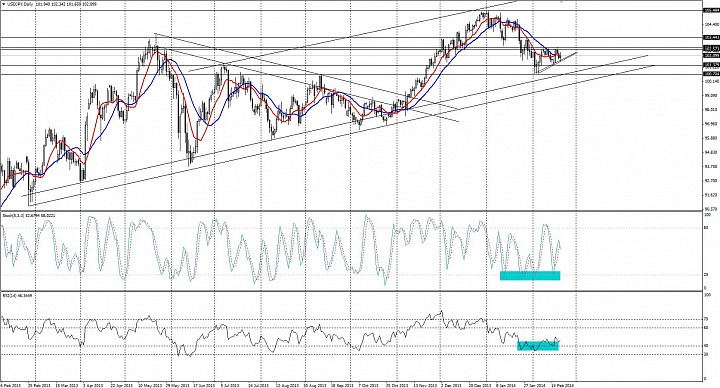 (USD/JPY Daily chart: click for full size)
In the daily chart you see failures of the S20-R40 combination in terms of not being followed by a higher high in price.
That is why I think the break above 102.70 to establish a higher high will be key to reviving the uptrend. Basically to me, a break above 102.70 is a better an indicator of bullishness then a break below 101.38 as an indicator of bearishness.