While the first quarter earnings season is almost over for all the other sectors, there are still a few companies in the retail sector that are yet to report. As a result, investors are on the lookout for companies in the retail sector that can beat their respective earnings estimates.
Interestingly, a significant number of companies that have reported their results so far have come out with positive surprises, in terms of both earnings and revenues, despite macroeconomic issues and continued volatility in the equity markets.
As per our Earnings Preview report, out of the 87.2% of the S&P 500 members who have already reported their first quarter results, 71.3% of the companies have beaten earnings estimates and 56.4% have surpassed top-line expectations, despite a decline in earnings and sales on a year-over-year basis.
This implies that either investors were prepared for even weaker results or the guidance for most companies was already lowered to easy-to-beat levels.
Among the supermarket retail biggies that have reported their quarterly results, The Kroger Company KR, one of the largest grocery retailers, posted an earnings beat in its fourth-quarter fiscal 2015 on Mar 3, but revenues missed the same. Kroger's dominant position enables it to expand its store base and boost market share. Kroger's customer-centric business model provides a strong value proposition to consumers. It is well positioned to continue its growth momentum primarily through identical supermarket sales growth. However, intensifying price war among grocery stores to lure budget-constrained consumers may adversely impact Kroger's sales and margins.
Whole Foods Market, Inc. WFM delivered its second straight quarter of positive earnings surprise when it reported second-quarter fiscal 2016 results on May 5, buoyed by cost control endeavors undertaken by management. The top-line however fell short of the Zacks Consensus Estimate.
Whole Foods has been revamping its pricing strategy and concentrating on value offerings in view of heightened competition as more companies are entering and expanding their presence in the Organic & Natural food business. These players include The Kroger Co., Sprouts Farmers Market, Inc. SFM and Wal-Mart Stores Inc. WMT.
Here we have two supermarket stocks, each of which is scheduled to release its first-quarter numbers on May 10. Let's see how things are shaping up for this announcement.
Jeronimo Martins SGPS SA JRONY, a supermarket chain which is engaged in the distribution and production of food items and fast moving consumer goods in Portugal and Poland, has an Earnings ESP of 0.00% and a Zacks Rank #2 (Buy). The Zacks Consensus Estimate for first quarter earnings is pegged at 27 cents.
Brazil-based Companhia Brasileira de Distribuicao CBD, holding a Zacks Rank #4 (Sell), is scheduled to report its earnings on Tuesday after markets close. The company had released first quarter 2016 sales figures on Apr 14. Its sales improved despite a weak economic environment and restricted spending.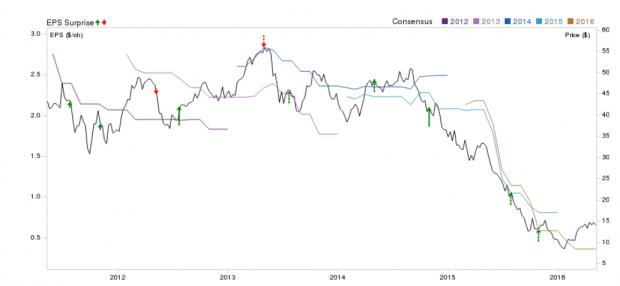 Net sales of this retailer increased 3% in the first quarter, which compared favorably with sales growth of just 0.2% in the preceding quarter. Assai Multivarejo continued to deliver stronger sales while Via Varejo generated its best sales performance since the second quarter of 2015, and witnessed market share gains.
Want the latest recommendations from Zacks Investment Research? Today, you can download 7 Best Stocks for the Next 30 Days. Click to get this free report >>
Want the latest recommendations from Zacks Investment Research? Today, you can download 7 Best Stocks for the Next 30 Days.
Click to get this free report
WAL-MART STORES (WMT): Free Stock Analysis Report
KROGER CO (KR): Free Stock Analysis Report
COMPANHIA BRASL (CBD): Free Stock Analysis Report
JERONIMO MARTIN (JRONY): Free Stock Analysis Report
SPROUTS FMR MKT (SFM): Free Stock Analysis Report
WHOLE FOODS MKT (WFM): Free Stock Analysis Report
To read this article on Zacks.com click here.
Zacks Investment Research