Global oil prices and stock markets tumbled on Monday after major oil producers failed to agree on a deal to freeze output, but analysts are insisting that no deal is actually the best possible outcome for markets.
Equity and oil markets have been hit after talks between 16 global OPEC and non-OPEC producers in Qatar on Sunday failed to produce any deal to freeze production. There were hopes that a freeze would support oil prices, which have fallen dramatically since mid-2014 due a glut in supply and lagging demand.
Despite the collapse of talks, oil market watchers said the lack of a "Doha deal" would be better in the long term and would mean that a rebalancing process of supply and demand can continue to its natural conclusion.
"We can see it as the rational decision that there has been no decision (in Doha)," Michele Della Vigna, co-head of European Equity Research at Goldman Sachs, told CNBC on Monday.
"It has taken 18 months to start to rebalance the oil market with falling non-OPEC production in a variety of countries and demand showing signs of recovery which means we are getting there, we're getting to a new equilibrium."
"So why delay it with a self-defeating rally that would bring an oil price to above $40 a barrel too quickly and one that would incentivize producers to ramp back up production?" he asked.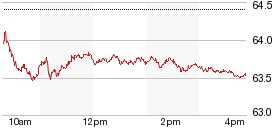 Talks...
More