Amazon.com Inc (NASDAQ:AMZN) stock enters overbought territory ahead of Q2 earnings.
Shares of Seattle, Washington-based Amazon.com Inc (NASDAQ:AMZN) have had a great run lately, with the stock gaining by about 40% since the beginning of the year. Close to 16% of these gains have come in the last three months alone. With Amazon poised to report its earnings for the second quarter of 2017, later today, a lot of anticipation has built up. And Amazon's technical charts are reflecting this anticipation. AMZN stock has entered overbought territory based on two popular indicators, the Bollinger Bands, and the Relative Strength Index (RSI). Amazon's stock price is touching the upper Bollinger Band, which is considered to be a sign of overbought conditions. Typically, traders look to the RSI for a reinforcement of this signal. When both indicators concur, the signal is considered to be strong. In this case, Amazon's RSI has a reading of 71, higher than the commonly used overbought threshold of 70, implying that this is indeed a strong signal.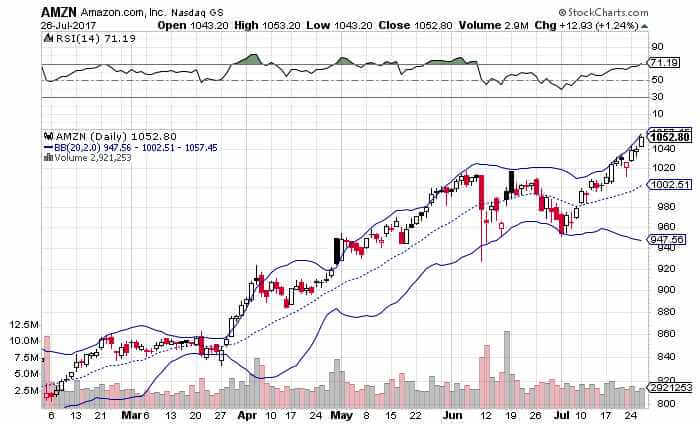 If Amazon disappoints The Street with its second quarter numbers, expect to see a sizeable correction from current levels. For quick reference, let's look at the key expectations from Amazon's second quarter earnings. Analysts expect Amazon to deliver $37.18...
More