German luxury-car maker BMW AG (NASDAQOTH: BAMXF) said that its operating income rose 7.5% in the second quarter, to 2.93 billion euros ($3.47 billion), as strong global sales of its all-new 5 Series sedan more than offset weakening demand for luxury vehicles in the important U.S. market.
BMW earnings: The raw numbers
Financial results are shown in millions of euros. As of August 3, 1 euro = about $1.19. 
| Metric | Q2 2017 | Q2 2016 | Change |
| --- | --- | --- | --- |
| Revenue | 25,799 | 25,014 | 3.1% |
| Sales volume (autos) | 633,582 | 605,534 | 4.6% |
| Sales volume (motorcycles) | 52,753 | 46,966 | 12.3% |
| Earnings before interest and tax (EBIT) | 2,929 | 2,725 | 7.5% |
| EBIT margin, Automotive segment | 9.7% | 9.5% | 0.2 ppts |
| Net profit | 2,214 | 1,949 | 13.6% |
Data source: BMW AG. "Ppts" = percentage points.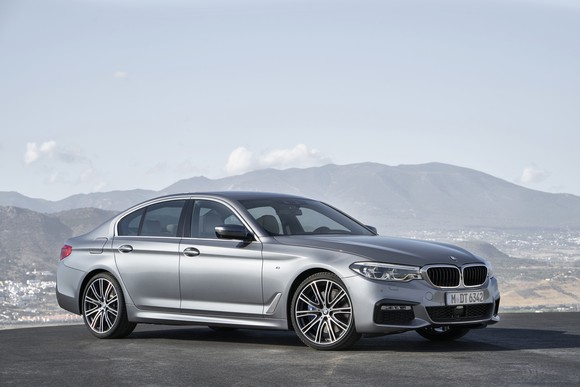 BMW's midsize 5 Series sedans are all new this year. Strong demand for the new sedans helped boost profit in the second quarter. Image source: BMW AG.
How BMW's business segments performed in the second quarter
BMW's business is organized into three segments:
BMW's automotive segment builds and sells cars and SUVs under three brands: BMW, Mini, and Rolls-Royce.
Its motorcycles segment, called BMW Motorrad, builds and sells BMW-brand motorcycles, also under the BMW brand.
Its financial-services segment provides financing for dealers and buyers of BMW's vehicles.
Here's how each segment performed in the second quarter. 
Automotive
EBIT (earnings before interest and taxes) in BMW's Automotive segment rose 2.8% from the second quarter of 2016, to 2.24 billion euros. Automotive's EBIT margin was 9.7%, up 20 basis points from a year ago, and well within BMW's ongoing target range of 8% to 10%. While U.S. sales fell 8% in the quarter, and sales in Europe rose just 0.4%, strong growth in China (up 24.8% from a year ago) more than offset the weaker markets. 
BMW said that strong global demand for its X family of crossover SUVs, as well its all-new 5 Series and recently revised 7 Series sedans, were the key drivers of the gains.
Motorcycles
Deliveries of BMW motorcycles rose 12.3% in the second quarter, to 52,753 units, an all-time quarterly high for BMW Motorrad. The segment's EBIT rose 6.1%, to 104 million euros, on a 12.8% jump in revenue (to 696 million euros). Motorcycles' EBIT margin in the second quarter was 14.9%, down from 15.9% a year ago.
First-half sales growth was especially strong in France and Italy (up 21% and 15%, respectively). The segment also managed good sales growth in the United States (up 3.8% in the first half of the year), despite stiff competition and a shrinking overall market.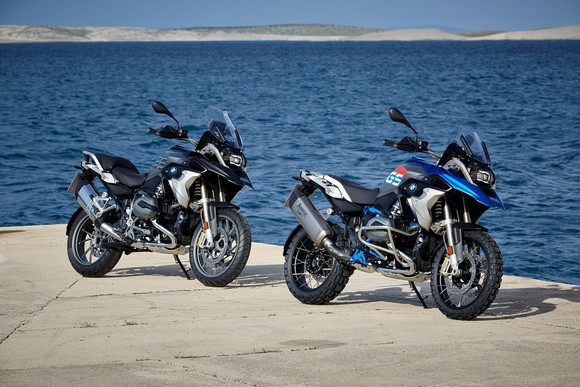 BMW's boxer-engined R series touring motorcycles have long been its best-sellers. The R 1200 GS was revamped for 2017 and sales have been strong. Image source: BMW AG. 
Financial services
BMW's captive-financing arm generated EBIT of 1.19 billion euros in the second quarter, up 6.4% from a year ago, on revenue of 7.04 billion euros (up 8.3%). It signed 468,603 new financing and leasing contracts in the second quarter, up 1.7% from a year ago. 
BMW said that leasing accounted for 31.1% of its total new financing contracts in the first half of 2017, with credit financing accounting for the remainder. The growth is coming largely from China, where almost 48% of new BMW Group vehicles were either leased or financed by BMW Financial Services in the first half of the year.  
What BMW's chief financial officer said about the quarter
Nicolas Peter is BMW's Member of the Board of Management for Finance, a title equivalent to chief financial officer of a U.S. company. Here's what he said about the quarter's results:
After a good start to the year, the BMW Group demonstrated its financial strength once again in the second quarter of 2017. The EBIT margin of 9.7% for our automotive business was higher than the same quarter last year. Based on the strong performance in the first half of the year, we are able to confirm our guidance for 2017.

We will continue to systematically strengthen our performance side and to leverage efficiencies across all areas of the company. This enables us to finance from our operating business the substantial investments needed for electrification and autonomous driving. This remains our goal, even in the face of increasing global economic volatility. 
Looking ahead: BMW confirmed its full-year guidance
As it did last quarter, BMW once again reiterated its cautiously upbeat guidance for the full year. It still expects "slight increases" in deliveries and pre-tax profit from record 2016 levels, as well as an EBIT margin for its automotive segment in the range of 8% to 10% for the year.
10 stocks we like better than BMW
When investing geniuses David and Tom Gardner have a stock tip, it can pay to listen. After all, the newsletter they have run for over a decade, Motley Fool Stock Advisor, has tripled the market.*
David and Tom just revealed what they believe are the 10 best stocks for investors to buy right now... and BMW wasn't one of them! That's right -- they think these 10 stocks are even better buys.
Click here to learn about these picks!
*Stock Advisor returns as of August 1, 2017
John Rosevear has no position in any stocks mentioned. The Motley Fool recommends BMW. The Motley Fool has a disclosure policy.