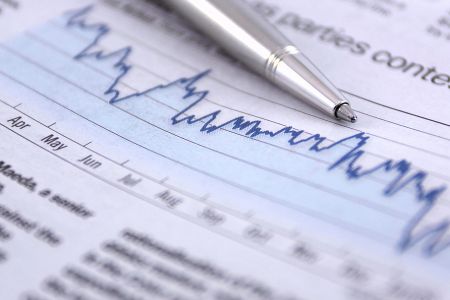 Major equity benchmarks bounce from 200-day moving averages, reaching toward trendline resistance.
**NEW** As part of the ongoing process to offer new and up-to-date information regarding seasonal and technical investing, we are adding a section to the daily reports that details the stocks that are entering their period of seasonal strength, based on average historical start dates.   Stocks highlighted are for information purposes only and should not be considered as advice to purchase or to sell mentioned securities.   As always, the use of technical and fundamental analysis is encouraged in order to fine tune entry and exit points to average seasonal trends.
Stocks Entering Period of Seasonal Strength Today:
No stocks identified for today
The Markets
Stocks gapped higher on Monday as investors reacted to news that the FBI had again cleared Hillary Clinton of any wrongdoing in the use of her private email server.  Major benchmarks bounced firmly from their rising 200-day moving average lines, immediately working off an oversold condition that followed nine straight days of losses.  The S&P 500 Index managed to move back above previous broken support around 2120, still remaining below declining trendline resistance that comes in around the 50-day moving average at 2147.  A catalyst looks to be required to break this hurdle overhead and whether the election result has the power achieve this breakout is up for debate.  The consensus amongst analysts seems to be that a Trump win would send a shockwave through equity markets, potentially leading to an immediate move lower of around 10%.  Meanwhile, the move forecasted following a Clinton win has just about reached its target following Monday's move, suggesting that the downside risk is greater than the upside reward.  We'll know soon enough what the knee-jerk reaction will reveal when the early results start to be released on Tuesday evening.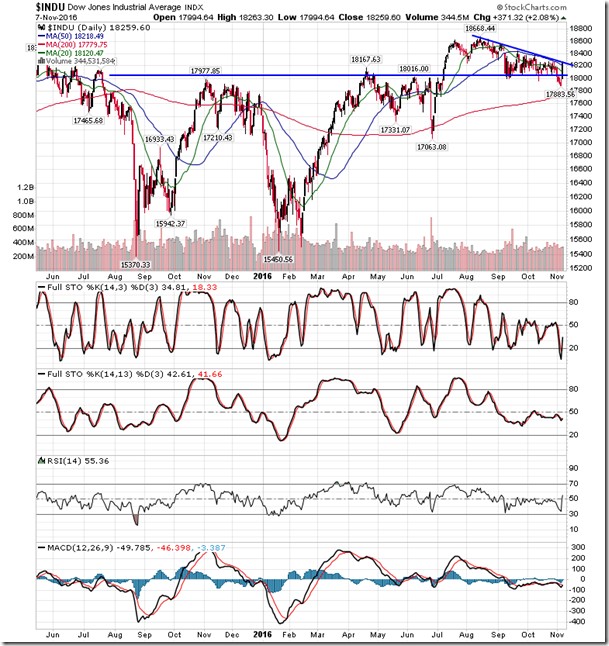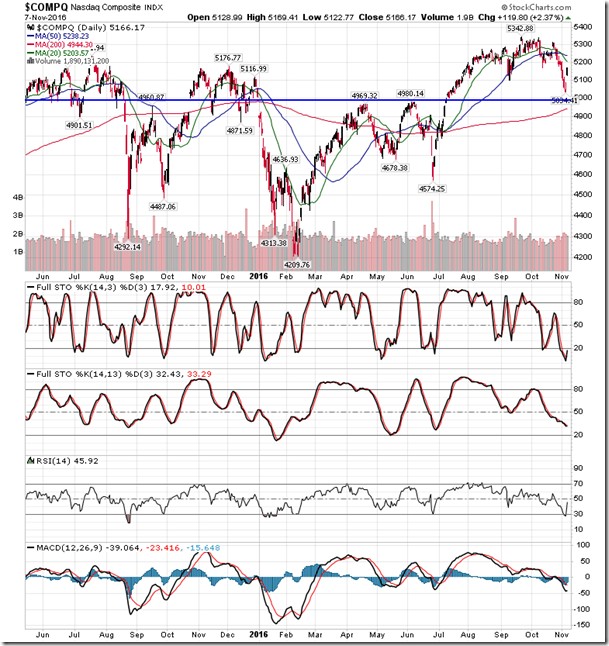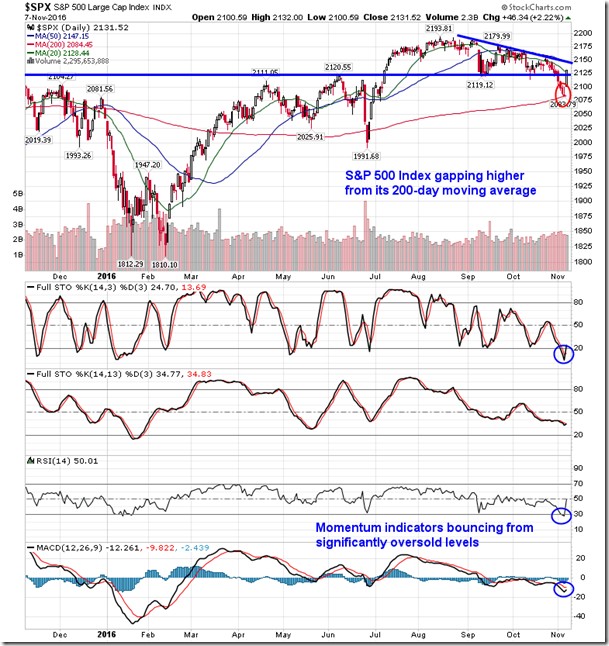 Gains during Monday's session were widespread with the health care sector leading the pack, a peculiar outcome considering that the market appears to be pricing in a democratic win. Health care stocks have been under pressure for the past couple of months as a result of speculation that a win by the democratic candidate, Hillary Clinton, could bring upon new regulations to combat the perceived excesses with regards to drug price increases.  In many ways, the pre-election day rally was an example of short-covering going into what remains an uncertain event ahead.  With portfolios neutralized ahead of the result, it will be up to the bulls to take control to bring new money to the market in order to fuel the next leg higher.  While there remains encouraging signs that risk sentiment is on an upswing, such as the breakout in the Dow Jones Transportation Average, other developments are not as encouraging, such as the resumption of the strength in the US Dollar.  Dollar strength remains one of the larger risks to stocks and commodities as market participants brace for the prospect of higher rates when the FOMC meets next month.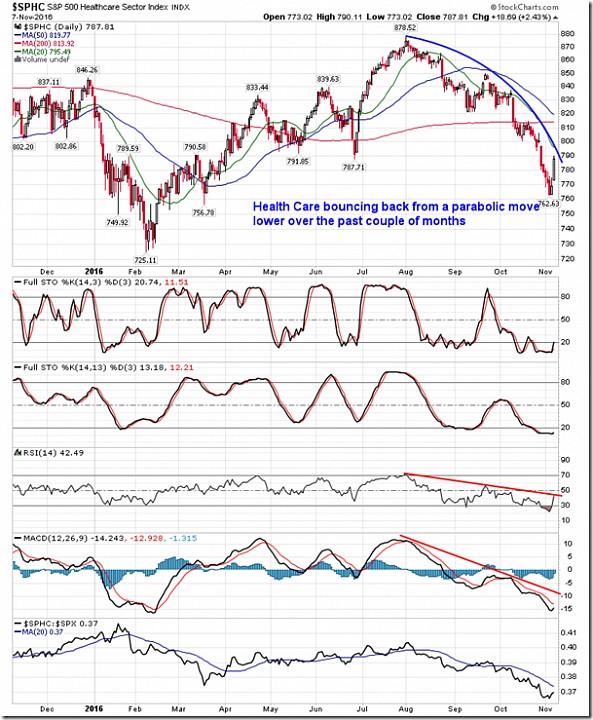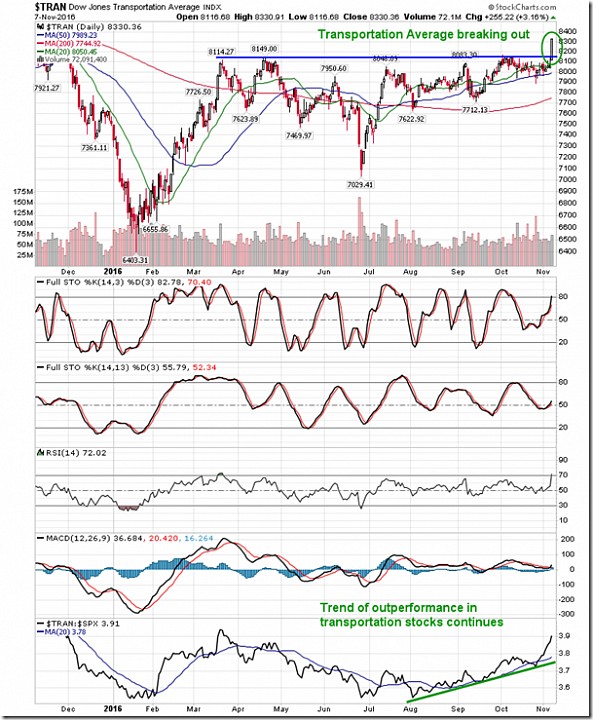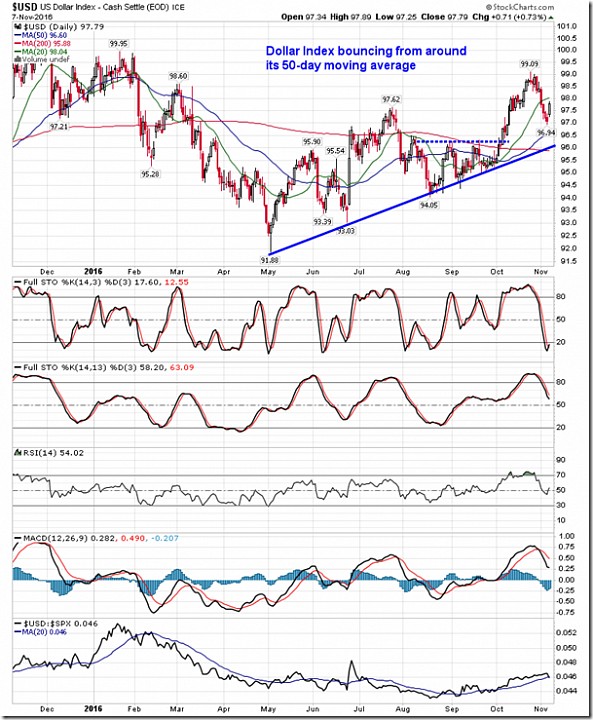 Sentiment on Monday, as gauged by the put-call ratio, ended bearish at 1.22.  Despite the rally in stocks, investors remain cautious, sticking to the protection provided by put options as opposed to betting on the upside potential that they would get from calls.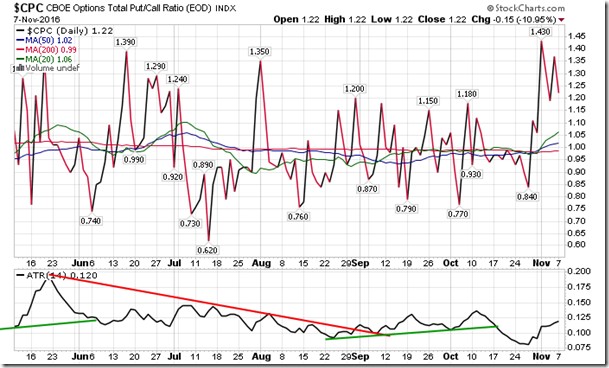 Seasonal charts of companies reporting earnings today:
S&P 500 Index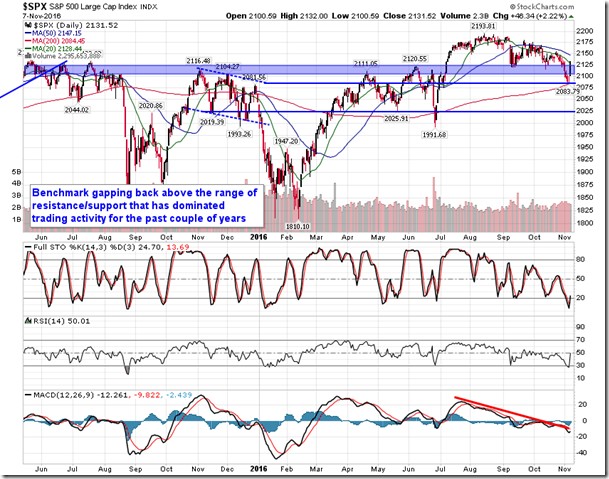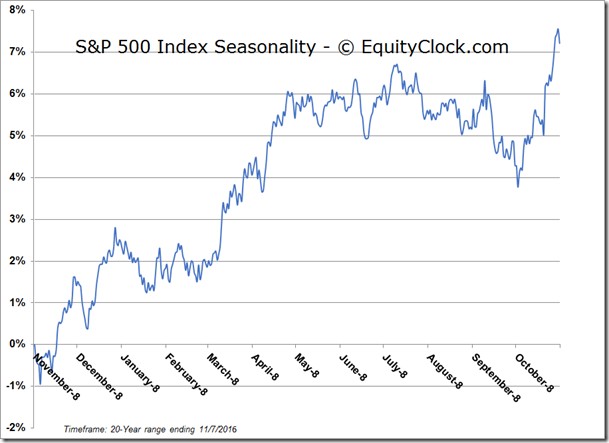 TSE Composite