Draghi cites benefits from falling oil prices, stimulus measures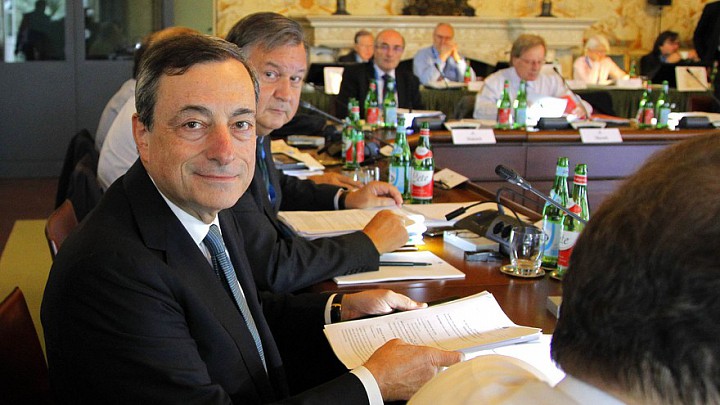 Reuters
ECB President Mario Draghi says the bank's QE program is working

European Central Bank President Mario Draghi said Monday that an economic recovery is taking hold in the eurozone thanks in part to the bank's stimulus moves, and he urged governments to use the brighter outlook to advance reforms that would improve the region's long-term growth prospects.
"The current upturn in economic conditions, which the ECB has helped to generate, must be used," Draghi said in a speech to a finance conference in Frankfurt, echoing a more upbeat tone in his recent comments on the European economy.
Draghi also called on Europe's leaders to make a "quantum leap" toward greater sharing of national sovereignty to strengthen the rules governing the 19-member currency bloc.
"Most indicators suggest a sustained recovery is taking hold," Draghi said. "Confidence among firms and consumers is rising. Growth forecasts have been revised upwards. And bank lending is improving on both the demand and supply sides."
Draghi cited the economic benefits from falling oil prices, stimulus measures the ECB undertook since the middle of last year "which have led to a significant easing of financing conditions," as well as economic reforms implemented by several euro members.
Last week, the ECB starting buying large amounts of government bonds and other debt instruments under a program known as quantitative easing. The plan was approved by the ECB's governing council Jan. 22.
The ECB has said it would purchase a total of €60 billion, ($64.2 billion) a month in eurozone government bonds, debt instruments issued by European Union institutions and private debt instruments between this month and September 2016. The purchases could extend beyond the fall of 2016 if inflation hasn't shown signs of returning to the ECB's target of just less than 2%, officials have said, which could take the eventual size of the program to well more than €1 trillion.
The ECB settled €9.8 billion in public debt purchases last week, the central bank said Monday. Because it takes about two days for actual purchases to be finalized, the amount essentially covers the first three days of the program, indicating an aggressive start.
The euro weakened and eurozone bond yields plummeted in the run up to launch of the bond program and in its aftermath, although the the euro gained some ground against the U.S. dollar on Monday.
The 19-member eurozone has been one of the global economies biggest laggards in recent years and has struggled to recover from a pair of recessions since 2009. But recent data suggest some firming in activity led by the bloc's largest economy, Germany, which has benefited from both the drop in bond yields and the weaker euro. A weaker currency typically boost exports.
"We can rightly be optimistic about the outlook. But this does not mean we should rest on our laurels," Draghi said.
He urged countries to press forward with reforms to make labor markets more flexible and economies more productive, and noted that Italy has recently unveiled "a major labor market reform," which Draghi cited as proof that monetary-policy actions can spur reform efforts.
Meanwhile, the eurozone's set-up should be revamped to give greater weight toward European institutions that are accountable to the region's citizens, Draghi said, noting that in areas such as fiscal policy the bloc's rules-based governance approach has "repeatedly been broken and trust between countries has been strained."
Despite the strides the bloc has made as a monetary union, "we have not yet advanced far enough to put all questions about our future to bed," Draghi said.
"We need to remove those lingering doubts that resurface whenever a shock hits. And to do so we have to accelerate both our economic and institutional convergence," he said.
marketwatch