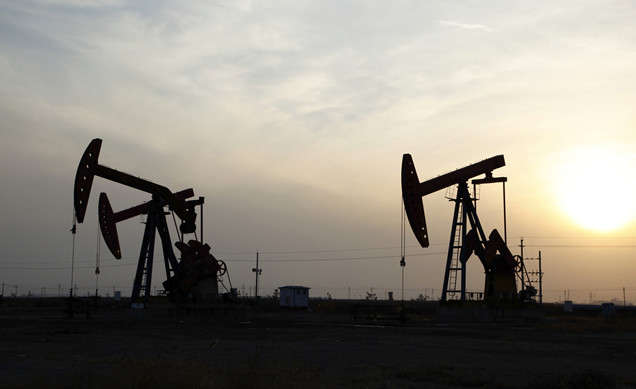 What Private-Equity Executives Said About Oil Prices
by Maureen Farrell
Oil prices weighed heavily on private-equity earnings during the fourth quarter.
But instead of retreating from the oil patch, executives at the largest publicly-traded PE firms were quick to highlight the big investment opportunities that await them.
MoneyBeat took a look at how each of the publicly-traded PE firm's oil investments fared and where they expect oil prices to go and where they see the potential for new deals:
KKR& Co. is the one of the biggest energy investors among PE firms and the tumble in oil prices has hurt the value of some of its holdings.
In the fourth quarter, KKR wrote down the value of its energy investments by about $225 million, or about 24% below cost. But it could have been worse had KKR not previously written off much of the value of its stake in Samson Resources Corp., a Tulsa, Okla., oil-and-gas producer that KKR and other investors acquired for $7.2 billion in 2011. KKR said it currently values its investment in Samson at 5 cents on the dollar.
Scott Nuttall, head of KKR's global capital and asset-management group, said the opportunities in energy are "immense," and the firm has created a so-called "energy SWAT team" to seek out new investments. He said they have $5 billion in dry powder in its so-called energy and infrastructure platform to buy energy assets, and are looking mostly at private credit opportunities, including second lien deals and other debt higher up the capital structure and secured by assets.
Where are oil prices going? Mr. Nuttall said the drama in the energy markets is in the "second innings" but didn't specify where exactly he thought they would go. They're simply investing cautiously to protect themselves.
Carlyle Group LP reported steep declines in the firm's energy funds Wednesday, which dragged on its overall performance. Absent the effect of falling oil prices had on its energy holdings, the value of Carlyle's funds in which it shares profits would have risen 6% on the quarter, the firm said. Instead they rose 1%.
On the firm's conference call, William Conway, its co-founder and co-chief executive, highlighted the positive effects of low oil prices on its investments. "Believe me, over the course of the portfolio, everybody is a lot better off with lower energy prices." He cited several beneficiaries, including the car paint business Carlyle agreed to buy from DuPont for $4.9 billion in 2012 and Philadelphia Energy Solutions LLC, a portfolio company that owns and operates a Philadelphia refinery.
Apollo Global Management LLC'sAPO +0.40% shares in its biggest oil-and-gas bet tumbled, which weighed on its fourth-quarter results.
Apollo and other investors in the 2012 takeover of EP Energy Corp.EPE +6.60% reaped nearly $750 million in fees and dividends from the company before the energy producer sold shares in an initial public offering last year. These fees buffered some of the losses, but EP Energy's shares dropped dramatically in the second half of 2014, but have rebounded somewhat this year.Still the PE firm said that energy exposure in its funds accounts for just 5% of its $112 billion of assets under management.
At Apollo, Joshua Harris, one of its co-founders, said on its conference call that investors in oil and oil-related businesses have sold out somewhat indiscriminately, so he said the firm sees opportunities and the potential for great value."Fundamentally we think the price of oil is likely to be higher over time," Mr. Harris said. Still he said he expects volatility over the next several quarters.
Blackstone Group LP'sBX +0.74% Chief Financial Officer Laurence Tosi said on a conference this week that the fund hasn't been hit too hard by falling oil prices as "by design" earlier this year, it divested roughly $6 billion in oil-related assets at "very high multiples" of more than three times its investment earlier. The firm beat analysts' estimates when it reported fourth-quarter earnings on Jan. 29.
Mr. Tosi said the firm is looking ahead to the "great opportunities" they're seeing.
"I will tell you, the energy teams in credit and in private equity have never been busier," he said. "The banks have really backed up and they really have retreated. There's not a lot of liquidity. There's not a lot of credit. And there's a lot of distress."
Meanwhile on the company's Jan. 29 earnings call, Stephen Schwarzman, co-founder and chief executive of Blackstone Group, said that low oil prices will be positive for the U.S. economy, where the majority of the firm's assets are located.
Source : http://blogs.wsj.com/privateequity/2015/02/11/what-private-equity-executives-said-about-oil-prices/