Well done for Wal-Mart's online sale, it rose by 30% to 10 billion beat a big rival Amazon that has 20% sales growth during the year end Dec 31.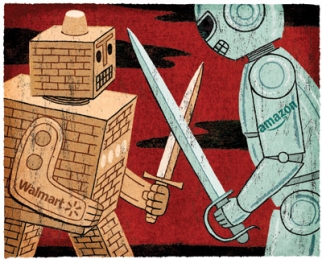 However, Wal-Mart still behind in term of overall sales.
Wal-Mart is trying to catch up with Amazon on e-commerce businesses. It will reveal buyout of start up e-commerce technology company Adchemy to help out optimize its use of search items.
So far Walmart has spent over $500 million into online business and plans to test same-day delivery and also online grocery ordering. Walmart plans to catch up with Amazon on range of product and delivery time by next January.
Amazon might need to worry about its market share soon.