See the dividend histories of Exxon Mobil, Johnson & Johnson, & Coca-Cola...since 1970.
Does relative historical yield matter?
See when Coca-Cola drastically underperforms the market.
Have you ever wondered when is the best time to buy dividend stocks?
In this article, I will analyze 3 dividend stocks over many decades to determine historically when the best time to buy is. Returns on a few of the longest-lived, most well known stocks are calculated based on their dividend yield at different times.
This article examines if higher dividend yields really are associated with higher returns, as one would expect.
Coca-Cola
The image below shows Coca-Cola's (NYSE:KO) dividend yield since the end of 1962. A quick glance at the chart shows that Coca-Cola offered investors enormous yields of over 7% around 1980.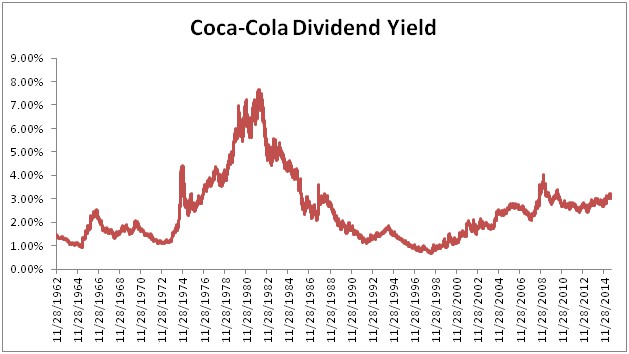 Aside from the high yield 1980 opportunity, Coca-Cola has largely been a low-yield stock. Over the last several years, the company's yield has slowly crept higher.
Any time since the Great Recession of 2009 to now has given investors an opportunity to purchase Coca-Cola for a dividend yield of around 3%.
The table below shows the annualized compound total returns of Coca-Cola stocks at different dividend yields.
| | | |
| --- | --- | --- |
| Dividend Yield | Average Total Return | S&P 500 Total Return |
| <1% | -0.22% | 1.99% |
| 1% - 2% | 7.05% | 5.94% |
| 2% - 3% | 10.44% | 6.97% |
| >3% | 32.69% | 14.73% |
More