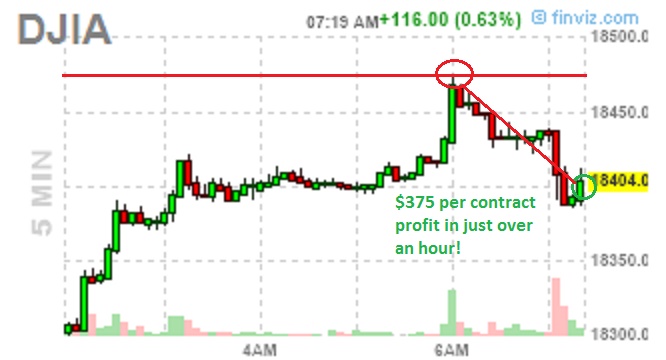 What a crazy day!  
In our Live Member Chat Room this morning, we called the short on the Dow Futures (/TF) off that silly run-up into the BOE Rate Decision at 7 am and the BOE surprised everyone (except us) by NOT lowering rates and the market quickly threw a temper tantrum – even though the BOE indicated they would be happy to raise rates in August if the economy showed signs of weakness.  
August is, by the way, 17 days from now.  
Truly investors have become complete babies, running after any shiny object and having complete fits if any little thing doesn't go their way.  There's no such thing as long-term investing anymore – it's all about today and maybe tomorrow and oh look, something shiny….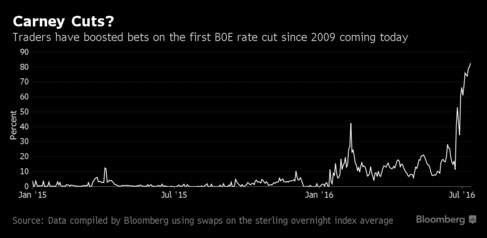 This is why we wanted to short.  In the last 2 weeks, 90% of the best on the BOE meeting were for a cut and the EU stocks rallied about 10% in expectation and our markets have made all-time highs in an attempt to catch up (even though the EU is miles below their all-time highs and oh look – shiny).
So, logically, how much damage could an actual cut do compared to the "shock" of there not being a cut?  Thanks to the August "promise" the bulls aren't taking things too badly but we've been sitting out this rally with our 3 small portfolios parked in fairly market-neutral positions (and mainly CASH!!!) while our Long-Term Portfolio has been reaping the gains but yesterday we took some more money and ran on our LTP, which is up a ridicuclous 110.8% because, as I often remind our Members – it's not really a profit unless you take it off the table!  
Philly Fed President Pat Harker was ignored this morning when he said the Fed may still hike TWICE (2x) in 2016.  There are only 4 more meetings, 7/27, 9/21, 11/2 and 12/14 and we know what happened when the Fed hiked last Dec so, logically (what's that?), with the market at or near record highs – the Fed pretty much HAS to hike in two weeks.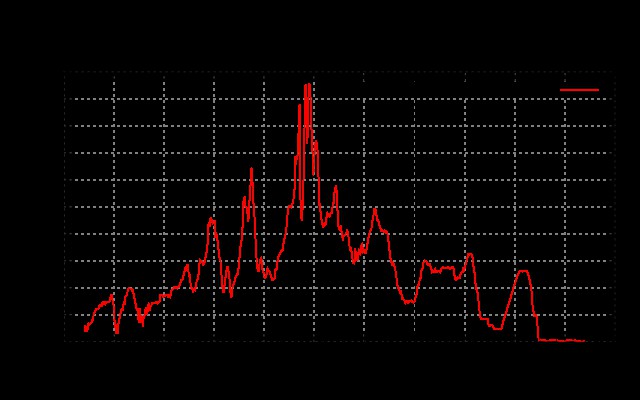 That would take pressure off the BOJ (meeting 7/29) to further devalue the Yen, since a stronger Dollar would weaken the Yen and, as we all know, Bernanke went to visit BOE Governor Carney this week and they ended up not hiking and that makes more sense if they KNOW the Fed is raising rate, which will weaken the Pound without them having to take more action. 

Yet the Dollar FELL to 95.85 because logic is, indeed, not something traders are very good at.  The Dollar was at 96.50 yesterday (+0.666% – the mark of the Blankfein!) so that accounts for the entire morning rally at the moment and, since we think the move is wrong – we're looking to go short again (levels are set in our Live Chat Room here).  
We have a target of 100 on the Dollar this summer and those Dollar Futures (/DX) pay $100 per 0.1 so it really sucks to be wrong but the upside potential is $4,150 per contract at 100 vs stopping out below 95.50 with a $300 loss – seems worth it to me, and I never like playing currencies.  
Of course, we're already heavily invested in currencies as we cashed out or portfolios and now we're waiting PATIENTLY for this madness to end and the summer sell-off to begin.  So far, so wrong on that call as the market had done nothing but go up but a Fed hike in two weeks will fix all that and 287,000 jobs added in last week's report and record high markets doesn't leave the Fed with too many excuses not to raise rates, does it?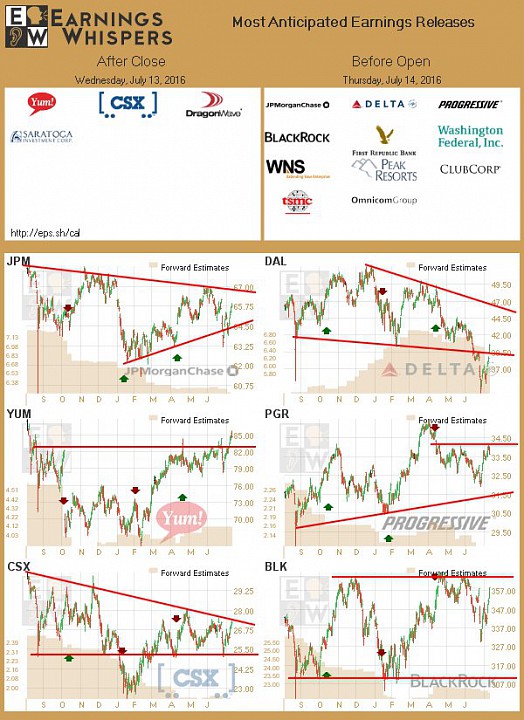 This evening (10pm) we should get the Q2 GDP Report from China and that will be interesting but it's all about earnings next week and so far, so good on that front with big beats from AA, JPM, CBSH and CSX while YUM and BLK were OK.
Tomorrow morning we hear from C, FHN, PNC, USB and WFC and we'll see how our bullish bank bets (FAS) pay off and then, next week, it's BAC, SCHW, PETS, IBM, LMT, HAL, ITW, ECA and AMD along with 200 other reports as earnings season kicks into gear. 
As we still don't have enough evidence to justify the recent moves up in the markets, we'll be taking the opportunity this morning to INCREASE our bearish hedges on the indexes.  We don't have enough evidence to kill our longs, of course, but we're certainly going to sacrifice about 1/3 of our ill-gotten gains to protect them.  I'll be reviewing all of our Member Portfolios today – ahead of tomorrow's options expiration.
Meanwhile, let's sit back and enjoy the show!  
Provided courtesy of Phil's Stock World.
Would you like to read up-to-date articles on the day they are posted? Click here to become a part of our growing community and learn how to stop gambling with your investments. We will teach you to BE THE HOUSE - Not the Gambler!