Market expectations on October revenue may be too low: Daiwa
Gaming stocks advance in Hong Kong after steady run of losses
After spending much of October in the doldrums, Macau casino stocks jumped Tuesday afternoon on optimism that monthly gaming revenue figures might not be that bad after all.
Five Hong Kong-listed Macau gaming companies all rose, led by MGM China Holdings Ltd., which climbed 3.4 percent after five straight days of losses. The gains coincided with a report from Daiwa Capital Markets Hong Kong Ltd. that said gross gaming revenue data, due Wednesday, may be surprisingly strong.
"The market's expectations may now be too low," Daiwa analyst Jamie Soo wrote. "Overall revenue trends in October have been pretty healthy, with strength witnessed across segments (both mass and VIP) and across Macau (both Peninsula and Cotai)."
Soo didn't stop there: he said average daily revenue for October could rise at least 19 percent on-year to 835 million patacas ($104 million), as the "post-peak season's tail performance has been quite strong." That would be the highest monthly ADR for Macau in three years.
Suncity Group, Macau's largest junket operator, expects betting volume on its tours to have risen more than 30 percent from a year earlier to about HK$150 billion, even though the Golden Week holiday at the start of October didn't provide as much of a boost as expected, said Andrew Lo, executive director of the group's listed vehicle, Suncity Group Holdings Ltd.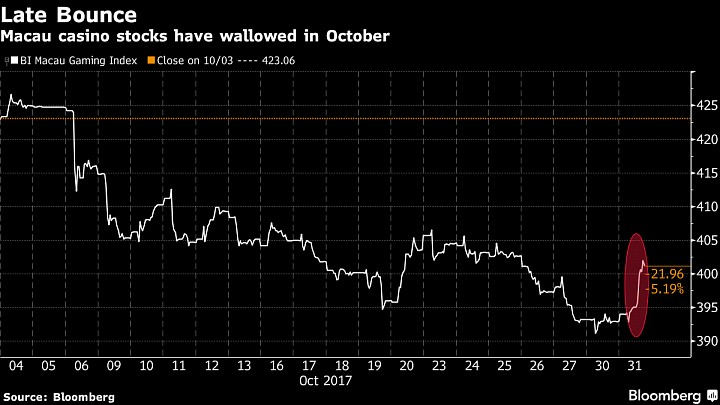 Government statistics showed the Oct. 1-8 national holiday got off to a slow start with declining visitor numbers, but the flow picked up as the week progressed. In the end, visitors totaled 920,631, an increase of 10 percent from a year earlier.
A Bloomberg Intelligence gauge of Macau casino stocks added 2.1 percent Tuesday. The index dropped every week in October following a five-week run of gains in the buildup to the Golden Week holiday. Even with this month's decline, it is still up 29 percent in 2017, in line with the Hang Seng Index.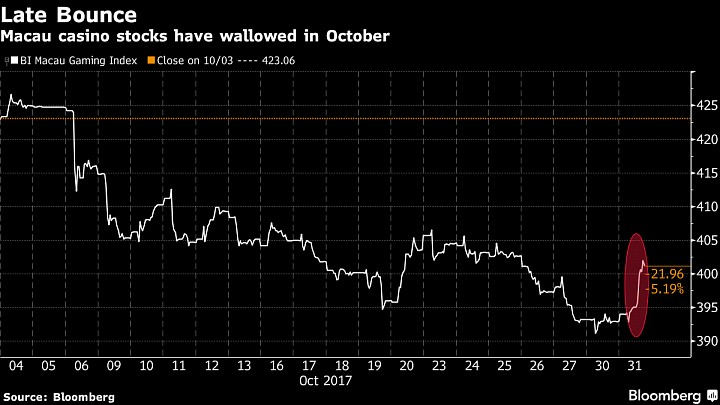 More