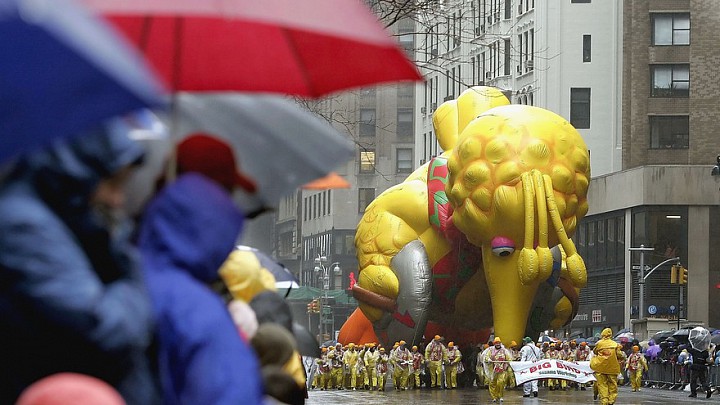 Getty Images
Energy companies are expected to report a sharp drop in earnings, dampening the S&P 500's momentum.
So far corporate earnings season surprisingly has buoyed the stock market, helping the main indexes to some of their best gains in years. But October's big run could fade into a distant memory this week with the earnings calendar laden by the languishing energy-sector.
"About half of S&P 500 companies have reported with 67% beating on bottom-line with an earnings surprise of plus 3.4%. More importantly, guidance activity so far has been better than feared." strategist Dubravko Lakos-Bujas at J.P. Morgan said in his report.
Energy companies are likely to be spoilers, with the sector expected to post an earnings decline of 65% year-over-year, as crude-oil prices remain depressed.
West Texas Intermediate crude-oil CLZ5, -0.20% settled at $46.59 a barrel on the New York Mercantile Exchange Friday, down 43% over the past year. The international benchmark brent crude LCOZ5, -0.53% traded at $49.56 a barrel, also off 43% in the past 12 months.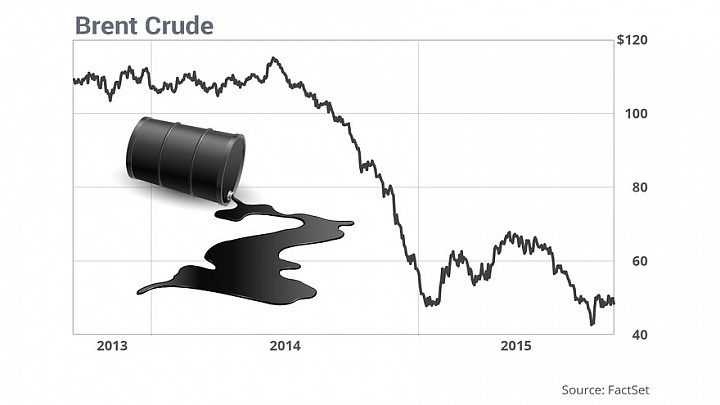 By segment, upstream, or exploration-and-production, earnings are projected to slump 95% while midstream (transportation, storage, marketing) is expected see earnings fall 25% and downstream (refining-and-processing) earnings forecast to slide 42%, according to RBC Capital Markets.
Energy earnings for week Nov. 2-6
Date
Company
FactSet EPS/revenue
Nov. 2
Diamond Offshore Drilling DO, +11.17%
60 cents/$594 mln
Noble Energy NBL, +5.94%
(17 cents)/$948 mln
Pioneer Natural Resources PXD, +1.06%
(4 cents)/$791 mln
Nov. 3
Columbia Pipeline Group CPGX, +1.69%
20 cents/$347 mln
NiSource NI, +0.10%
2 cents/$913 mln
Sempra Energy SRE, -0.02%
88 cents/$2.94 bln
Devon Energy DVN, +2.86%
52 cents/$4.02 bln
Newfield Exploration NFX, +0.32%
16 cents/$460 mln
Oneok OKE, +1.42%
40 cents/$2.46 bln
Cimarex Energy XEC, -0.64%
(8 cents)/$350 mln
Nov. 4
Chesapeake Energy CHK, +4.49%
(14 cents)/$2.92 bln
Spectra Energy SE, +0.77%
22 cents/$1.3 bln
Marathon Oil MRO, +3.43%
(40 cents/$1.42 bln)
Nov. 5
Apache APA, +1.72%
(37 cents)/$1.6 bln
EOG Resources EOG, +0.26%
(30 cents)/$2.4 bln
Source: FactSet
Materials and industrials sectors, with significant exposure to emerging markets, are also likely to report profit drops of 16% and 3% respectively.
Lingering worries about China and the adverse impact of a higher interest rate in the U.S. when the Federal Reserve tightens its monetary policy have weighed on the broader emerging market economies.
"The pullback in emerging markets may be a drag on sentiment in the days ahead, ultimately carrying over to U.S. stocks," said Katie Stockton, chief technical strategist at BTIG.
Aside from energy companies, there are plenty of big names reporting this week, including Visa Inc. V, -3.04% American International Group Inc. AIG, +1.08% Delta Air Lines Inc. DAL, -0.28% CBS Corp. CBS, +2.90% Time Warner Inc. TWX, +1.62%Ford Motor Co. F, -0.41% Warren Buffett's Berkshire Hathaway Inc.BRK.A, +1.54% BRK.B, +1.75% and News Corp NWS, +1.36% the publisher of this report.
But the undisputed crowd favorites will be Facebook Inc. FB, +1.31% and Tesla Motors Inc. TSLA, +3.32% Facebook shares are up 31% year to date while Tesla shares are down 7% this year.
With roughly 340 companies in the S&P 500 having released results so far, 76% have posted earnings above the mean estimate and 47% have turned in sales above the mean estimate, according to John Butters, senior earnings analyst at FactSet.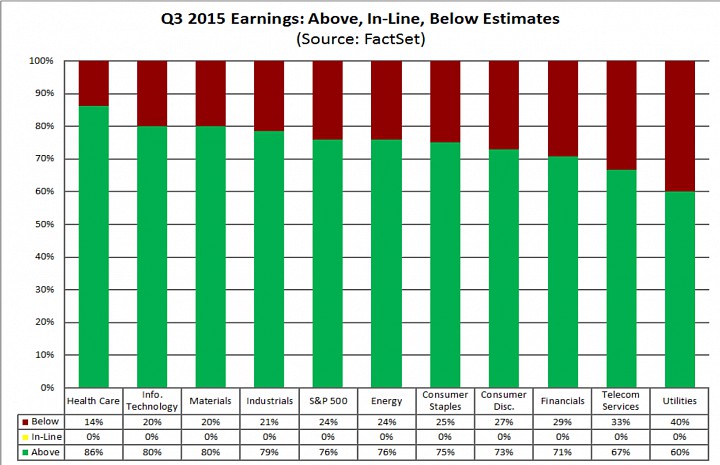 Going forward, investors will look for comments from companies about the impact of slower global economic growth, lower oil and gas prices and the stronger U.S. dollar on their financial performance, Butters said.
The S&P 500 SPX, +1.19% fell 0.5% to close at 2,079.36 last week while the Dow Jones Industrial Average DJIA, +0.94% slid 0.5% to 17,663.54 and the Nasdaq Composite COMP, +1.45% shed 0.4% to 5,053.75. However, the Dow closed out October 8.5% higher, the S&P 500 gained 8.3% on the month, while the Nasdaq surged 9.4%—all the main indexes posted their best monthly gains in four years.
More from MarketWatch