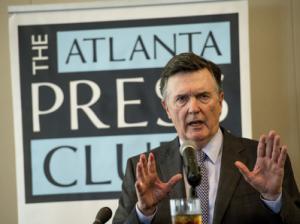 Federal Reserve Bank of Atlanta President Dennis Lockhart said an improving U.S. job market warrants an interest-rate increase this year, reinforcing the message from other officials in recent days that they remain on track for liftoff in 2015.
"We are getting much closer to the finish line from the point of view of whatever you would consider full employment," Lockhart told reporters Monday after a speech in Orlando, Florida. "I would expect to continue to make progress. So the beginning of normalization of interest rates I think is quite justifiable in the context of continuing progress of multiple measures of employment."
More from Bloomberg.com: This Analyst Says China's Stock Rally-to-Rout Is About to Repeat
Lockhart's remarks echoed Fed Vice Chairman Stanley Fischer, who said Sunday the U.S. economy may be strong enough to merit an interest-rate increase by year end, while cautioning that policy makers are monitoring slower domestic job growth and international developments in deciding the precise timing of liftoff. New York Fed chief William C. Dudley likewise said Friday he was still in the 2015 liftoff camp, provided his outlook for growth and inflation...
More