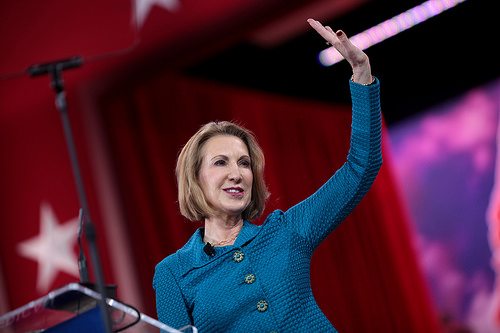 Donald Trump just won't quit, even while he's ahead.
The notoriously honest Republican Presidential candidate will soon grace the front cover of Rolling Stone magazine, accompanied by an article where, most likely among other shocking things, criticized his fellow competitor Carly Fiorina.
Most specifically, and likely to no one's surprise, her looks.
According to USA Today, Trump spoke about how Fiorina appears on camera and what people must be thinking when others see her on television.
Rolling Stone quotes Trump:
'Look at that face!' he cries. 'Would anyone vote for that? Can you imagine that, the face of our next president?!'
Appearing soon after on Fox's The Kelly File, Fiorina responded to Trump's comments essentially by deflecting them. According to USA Today, Fiorina told host Megyn Kelly that Trump might dislike her due to her rising poll numbers.
"I have no idea. Honestly, Megyn, I'm not going to spend a single cycle wondering what Donald Trump means. Maybe, just maybe, I'm getting under his skin a little bit because I am climbing in the polls," Fiorina told Kelly, according to USA Today.
It remains unclear why Trump insists on bringing up the physical appearance of women so often in his press interviewers. Recently, he discusses the looks of Kelly, as well, after the first round of Republican primary debates.
My question is, why?
The uber-successful businessman has said many times that he has no time for political correctness. However, I'm finding it very difficult to understand how he does have time for personal insults?
For more business and financial news, click here.
*This is editorial content and expresses the opinion of the author.