Dick's Sporting Goods (DKS) came to the plate with a chance to show that it's managing through the chaos created byAmazon.com (AMZN) and the rise of online retail. It struck out looking.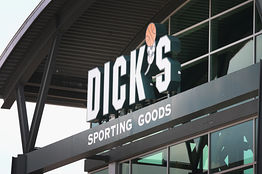 Dick's Sporting Goods reported a profit 96 cents a share, missing forecasts for $1 s share, on sales of $2.157 billion, slightly below estimates for $2.161 billion. Same-store sales rose just 0.1%, well below forecasts for growth of 2% to 3%. Dick's also said it would earning between $2.80 a share and $3 a share this year, below forecasts for $3.09.
What's behind the disappoint? Quo Vadis Capital's John Zolidis notes that e-commerce is rising but sales at physical stores are falling. He also...
More