Citigroup Inc. C is scheduled to report second-quarter 2017 results on Jul 14.

Riding on higher revenues, Citigroup delivered a positive earnings surprise of nearly 9.68% in the last quarter. The company recorded solid market revenues, supported by an improved trading environment. Both rates and currencies, along with spread products, improved. Moreover, results reflected prudent expense management.

This earnings beat translated into improved price movement for the company. Over the last six months, shares of Citigroup gained 12.1% compared with 6.0% growth recorded by the Zacks categorized Banks – Major Regional industry.

Will the rally in stock price continue post second-quarter earnings release? It majorly depends on whether the firm is able to maintain its trend of beating earnings for the last four quarters.

However, our quantitative model doesn't call for an earnings beat this time around. A stock needs to have the right combination of the two key criteria – a positive Earnings ESP and a Zacks Rank #1 (Strong Buy) or at least 2 (Buy) or 3 (Hold) – for increasing the odds of an earnings beat.

Citigroup Inc. Price and EPS Surprise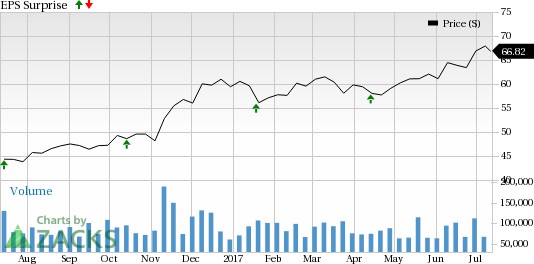 Citigroup Inc. Price and EPS Surprise | Citigroup Inc. Quote

Unfortunately, this is not the case here, as elaborated below.

Zacks ESP:The Earnings ESP for Citigroup is 0.00%. This is because both the Most Accurate estimate and the Zacks Consensus Estimate are currently pegged at $1.22. You can uncover the best stocks to buy or sell before they're reported with our Earnings ESP Filter.

Zacks Rank: Citigroup's Zacks Rank #3 increases the predictive power of ESP. However, we also need to have a positive ESP to be confident of an earnings beat.

Factors to Influence Q2 Results

Trading Revenues to Descend: Trading revenues are anticipated to decrease year over year, mainly due to low volatility in both the bond and equity markets. The prior-year quarter's trading results were quite unusual across the industry, with Brexit being the main driver at that time.

Consumer Banking Revenues to Exhibit Growth: In consumer, in North America, revenue growth in the second quarter is expected to be mostly inorganic, driven by a full quarter of revenue contribution from the Costco portfolio which was acquired in Jun 2016. Excluding mortgage, consistent growth in the North America Retail Banking franchise is anticipated as well. However, this is likely to be offset by lower mortgage revenues on a year-over-year basis.

Expense to Trend Lower: Citigroup continues to execute on its investment plans in the first quarter in Mexico, modernizing branches and ATMs, enhancing digital capabilities and upgrading core operating platforms. These infrastructure investments should improve operating efficiency and returns over time. Therefore, management anticipates maintaining positive operating leverage each year throughout the investment period. On a full-year basis, management projects efficiency ratio to be around 58%.

Pressure on Net Interest Margin (NIM) Might Ease: The prolonged low-rate environment has been taking a toll on the bank's margins for the past several years. However, the Fed's recent rate hike for the fourth time, since the financial crisis, and its commitment to raise rates faster (one more time) this year, based on a convincing pace of economic growth, is likely to help banks get rid of shrinking margins. However, lower treasury yields during the quarter might curb margin improvement.

Investment Banking Fees to Climb: Though global investment banking fees were slightly down on a year-over-year basis in second-quarter 2017, the figure escalated in the first half of 2017, with more than half the contribution from North America. The U.S. banks topped the league tables, with Citigroup securing the fifth position. Improving U.S. economy data, along with gaining market share, helped in recording higher investment banking fees. Thus, Citigroup is also likely to report an impressive quarter.

In Institutional business, market revenues are expected to reflect the normal seasonal decline from the prior quarter. Investment Banking revenues are likely to remain broadly stable sequentially, assuming that market conditions remain favorable, while constant growth on a year-over-year basis is foreseen in TTS, Securities Service and the Private Bank.

Credit Costs to Rise: Cost and credit is expected to be higher quarter on quarter, driven by the normalization of credit cost and ICG, partially offset by improvement in North America consumer. Management estimates the full-year NCL rate to be around 280 basis points in branded cards and 435 basis points in Retail Services for 2017, with some quarterly variability.

Loan Growth: According to management, personal loan balances have stabilized in recent quarters as underlying growth in certain markets have been offset by regulatory headwinds in others. These headwinds are abating and therefore, management projects modest growth in total retail loans from this new base in 2017, while continuing to improve the yield on the portfolio.

Further, management anticipates to generate loan growth in cards, going forward, as the company is investing to drive higher account acquisition and usage. These initiatives, along with consistent focus on wealth management, are likely to drive sustained growth in Asia in 2017 and beyond.

Stocks That Warrant a Look

Here are some stocks you may want to consider, as according to our model they have the right combination of elements to post an earnings beat this quarter.

Comerica Incorporated CMA has an earnings ESP of +4.67% and a Zacks Rank #2. It is scheduled to report second-quarter 2017 results on Jul 18. You can see the complete list of today's Zacks #1 Rank stocks here.

The earnings ESP for Fifth Third Bancorp FITB is +2.38% and it carries a Zacks Rank #3. The company is scheduled to release second-quarter results on Jul 21.

Huntington Bancshares Incorporated HBAN has an earnings ESP of +8.70% and a Zacks Rank #3. It is slated to report second-quarter results on Jul 21.

More Stock News: 8 Companies Verge on Apple-Like Run

Did you miss Apple's 9X stock explosion after they launched their iPhone in 2007? Now 2017 looks to be a pivotal year to get in on another emerging technology expected to rock the market. Demand could soar from almost nothing to $42 billion by 2025. Reports suggest it could save 10 million lives per decade which could in turn save $200 billion in U.S. healthcare costs.

A bonus Zacks Special Report names this breakthrough and the 8 best stocks to exploit it. Like Apple in 2007, these companies are already strong and coiling for potential mega-gains. Click to see them right now >>
Want the latest recommendations from Zacks Investment Research? Today, you can download 7 Best Stocks for the Next 30 Days.
Click to get this free report
Comerica Incorporated (CMA): Free Stock Analysis Report
Fifth Third Bancorp (FITB): Free Stock Analysis Report
Citigroup Inc. (C): Free Stock Analysis Report
Huntington Bancshares Incorporated (HBAN): Free Stock Analysis Report
To read this article on Zacks.com click here.
Zacks Investment Research