Lending Club (LC) is one of the winners during the 8/8 session, making a bullish breakout swing after the market digested Q2 earnings data. Businessinsider.com reported:
LendingClub on Monday posted its second highest quarterly revenues in its history. And Wall Street has responded.
Net revenue spiked 35% to $139.6 million in the second quarter, beating Wall Street's average estimate of $136.4 million, according to Thomson Reuters.
Loan originations were up 10%.
This is a good sign for share price, which has been meandering directionless since 2016. Before that it was bearish. Perhaps, it is time LC will pivot from this consolidation mode since 2016 into a bullish mode in the second half of 2017.

Lending Club (LC) Daily Chart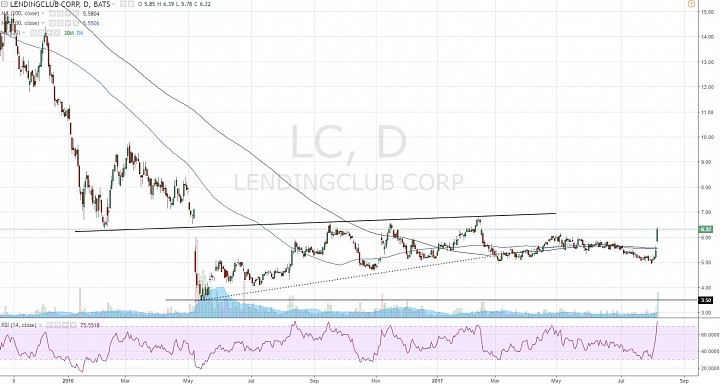 (click to enlarge)
Bullish Breakout:
- As we can see on the daily chart, price has been consolidating since hitting sliding to a low of 3.50 in 2016.
- Since November, the consolidation has pivoted above 5.00, but the upside has been similar, around 6.50.
- This anchoring higher of support is already a sign that the market wants to pivot higher.
- The Q2 earnings report pushed price above the consolidation range since March.
- While price is still within the range of the past year, the strength of the breakout on a strong earnings report carries implicit momentum.
- I think LC has become a candidate to consider the buy-on-a-dip strategy, where we should anticipate support in the 5.50-6.00 area.