This is strange.
Trump claims millions of people voted illegally and is using that argument to claim that a recount of the election results is not necessary.  Fortunately, he doesn't have his finger on the button just yet and there will be a recount in 3 states (MI, PA and WI)  and, though it's not likely to change anything in the end, it's likely to cause a bit of market turmoil – in addition to everything else that's going on.
Imagine if the election is overturned and the entire 10% Trump rally evaporates overnight – that would be interesting.  Nothing to worry about so far as we've made it to end-of-month window-dressing time and it's very unlikely "THEY" will let the markets drop away from record highs to close out November but December is going to be trickier as we have that Fed meeting on the 14th and this week already we have 7 Fed speakers to pave the way to the anticipated hike:
As you can see, just the Dallas Fed on the calendar this morning but then things heat up quickly as we get our 2nd estimate of 3rd Quarter GDP tomorrow after the hawkish Fed VC, Fisher has his say but Dudley cleans up after the data and then we see how confident the consumers really are.  Friday is non-Farm Payroll but first we have to get past the OPEC meeting on Wednesday and there's another part of the recent rally that might reverse hard and fast if no deal is reached.  
As you can see from the earnings calendar, we've pretty much run out of interesting companies to watch so the data becomes more important this time of year, until the earnings cycle starts again in January.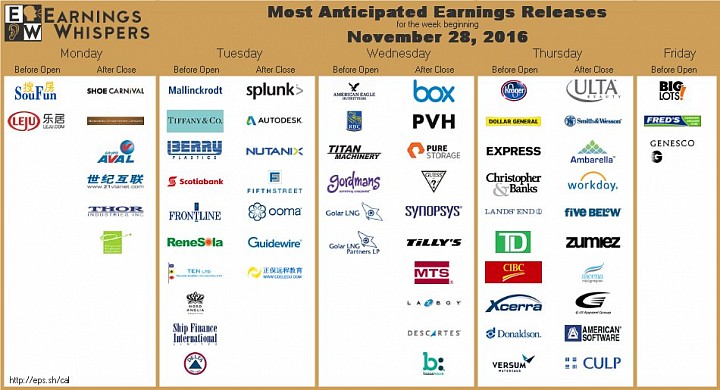 Fortunately, our friends at Goldman Sachs were kind enough to lay out a roadmap for us that takes us all the way through 2017, where the firm predicts we'll finish as 2,200 on the S&P which, unfortunately, is 13-points LOWER than we closed on Friday.  In fact, our Q1 S&P projection is for 2,125, down 4.2% from where we are now but clearly few people believe Goldman as they continue to BUYBUYBUY equities – at ever-increasing prices.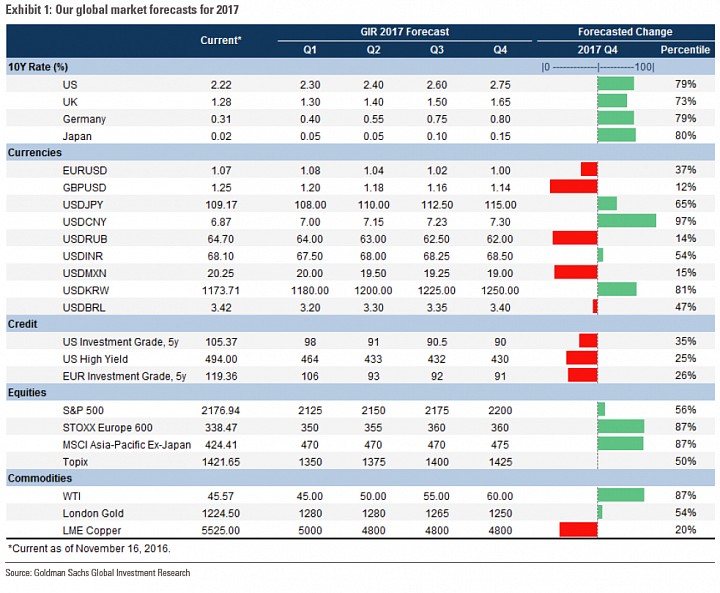 As you know from reading our posts last week, we've called a top too and, like Goldman, our targets have been exceeded but, like Goldman, we haven't had enough evidence to change our minds, despite the "Trump Rally" that was still going strong on Friday's low-volume session.  Of course, this is Monday and Monday's are usually meaningless and combined with the end of the month I don't even know why I bothered coming back from Florida for this nonsense.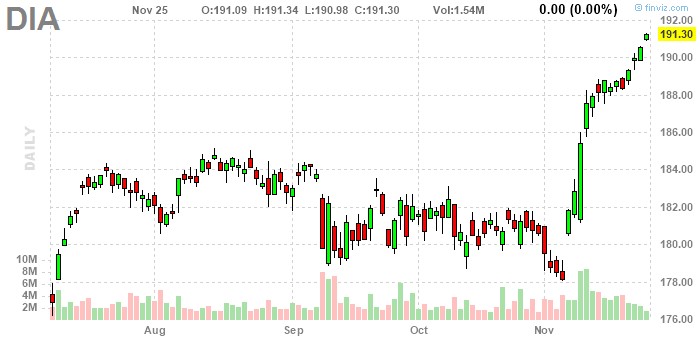 Of course, we also placed a long-side hedge on Friday, and that was buying 30 Dow ETF (DIA) March $188/193 bull call spread, which opened at $3 and finished at $3.07 but we made good money on the 5 Apple (AAPL) 2019 $97.50 puts we sold for $10.10 at the open and dropped to $9.68 by at the close so net entry $3,950 and already net $4,370, which is up 10.6% in a day and well on track to the full $15,000 payoff if the rally indeed has legs and still good for a new trade with $11,630 of upside remaining (266%).  
That trade allows us to stick with our real short-term plays, which are bearish as we look for a correction and look to lock in the gains we've made in our many long-term positions.  To say I am skeptical of this rally would be a gross understatement – incredulous is more the word I'd use.  Notice on JackDamn's S&P 500 chart, how much of our gains come pre and post market, while in-session trading is generally flat: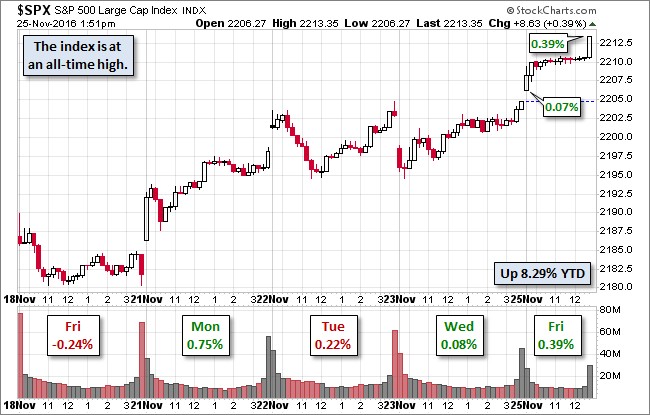 "THEY" are simply taking advantage of dumb money, that is flowing back into the markets through ETF flows which buy at the open or close of the day and the rest of the day "THEY" sell off their holdings and then blast the market higher again at the close – constantly jacking up the prices of whatever holdings the smart money still hasn't liquidated.  

On the whole though, the "smart money" has gone the opposite way of the "dumb money" post election and, so far, the dumb money is having their way and doing very well but that was also true from late July through mid August this summer, when the smart money pulled out well ahead of the downturn and, on the whole, it wasn't much of a downturn.  Of course, LAST summer, the smart money nailed it and got out ahead of the China collapse and none of us who had cash on the side regretted those last two weeks' of gains we "missed".  
So, at the risk of sounding like a broken record – I'm still going to urge CASH!!! and CAUTION!!! into the holidays.  Sure we can make upside hedges like Friday's DIA spread so we don't miss everything but that's low-cash and leveraged for a reason – we don't really believe in the rally but, if the market is determined to rally, then any idiot can make a fortune using just a little bit of leverage against the index funds – that's they way to play a rally you don't believe in!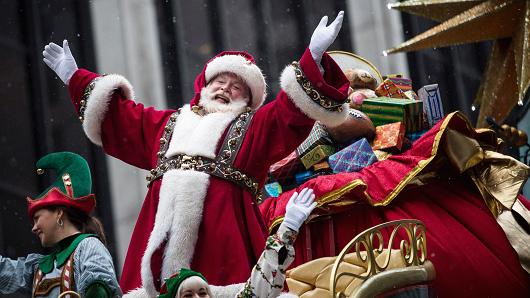 Provided courtesy of Phil's Stock World.
Would you like to read up-to-date articles on the day they are posted? Click here to become a part of our growing community and learn how to stop gambling with your investments. We will teach you to BE THE HOUSE - Not the Gambler!