Wal-Mart (NYSE:WMT) has yet to bottom. Its shares are down more than one-quarter from its yearly high while online retailer Amazon.com (NASDAQ:AMZN) is up over 87 percent from its low. Without even needing to compare the differences in price multiples for these two firms, Wal-Mart is clearly out of favor.
Investors are finding many excuses not to hold Wal-Mart. Labor costs in the U.S. may increase while slowing economic activity in the last few months in China will have an impact on sales. In the second quarter, WMT completed its acquisition of its remaining stake in Yihaodian, its eCommerce business in China. The company owned 51% in Yihaodian in 2012. Since then, the registered customer count doubled to 100 million.
Amazon outperforms Wal-Mart by a wide margin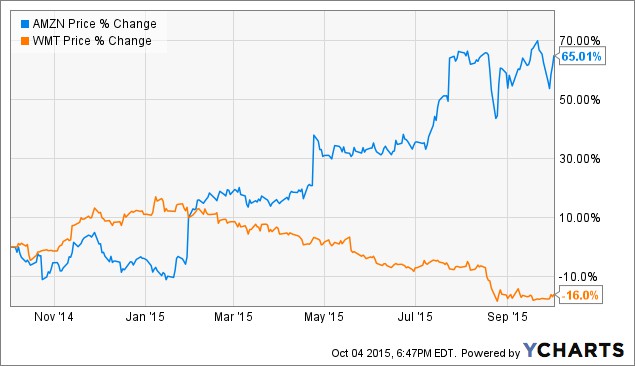 Despite worry over the impact of China on Wal-Mart's business, the company's comparable store sales fell just 1.4% last quarter. It will continue growing its market share in the region by opening more stores in key cities like Shenzhen.
Wal-Mart's net income is steady over the last five years. It was only in the April 2015 quarter that net...
More