In the daily chart, you can see that the market is in a triangle. There seems to be some very short-term downside risk, but we should be looking for buyers if price falls toward the triangle support and a previous support/resistance pivot area around 1275. From there a bullish outlook can be limited to 1320-1330, let's say 1325. Also, you can see that a break below 1260 would clear below the triangle and introduce a bearish outlook toward 1240 and 1200.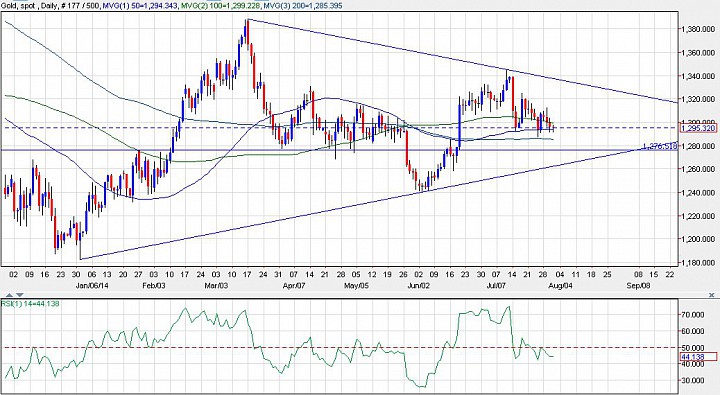 (gold daily chart 7/31)
So, if a bullish entry is at 1275, and the stop is at 1255, we have a risk of 20 units. If the target is 1325, the potential reward is 50. This offers a reward to risk ratio of 2.5:1. 
In the 4H chart, you can see that price has turned bearish based on the moving averages, which have gotten into bearish alignment with price trading below them. The RSI has tagged 30, but failed to clear above 60. Price has given has lower highs and lower lows. 
If the current bearish push can't breach the 1290 handle and pops up above 1305, we are likely in a bullish breakout attempt. 

Then, a break above 1310 should open up at least the 1325-1330 area of common resistance going back to June.The triangle resistance is not far from this area and provides reinforcement.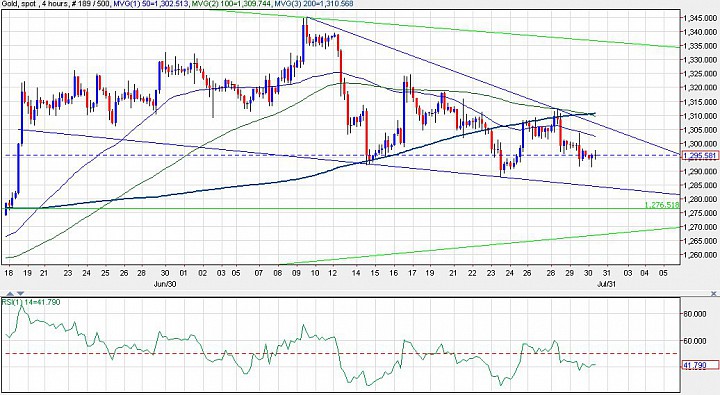 (gold xau/usd, 4h chart, 7/31)
After a break above 1310, let's say you plan a buy at 1305. Price should hold above 1300 or the bullish outlook would be in trouble. So let's say you have a stop at 1295. This has a 15-unit risk. This scenario is more bullish then then trading at the triangle support because price would have stayed above the moving average cluster in the daily chart and avoided the triangle support. So, the target of 1345 is viable. This gives you a 40-unit reward.  This trade then offers us a 40:15, or 2.6:1 reward to risk ratio.
Watch out for Friday's NFP as a possible risk event, though I don't think this month's print will be much of a shaker after the FOMC basically poured water on the hot USD.