For some time now USD/CAD has been in a wide, whippy side-ways consolidation for some time now. The question is, will this breakout or breakdown? Ultimately no one truly knows until after the move takes place however, there are several things that we want to look at and consider that will help us gain an edge.
Take a look at the daily chart below and note anything that jumps out at you as being important.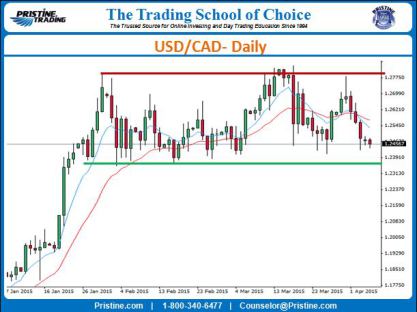 While there are many things that you could note about what is happening inside of this consolidation, here are some of the main points:
– We began this sideways trend after trending higher. This sets a more bullish tone for at least the beginning of the sideways range.
– Around mid March there was a breakout above the top of the range which failed. It also came in with Bearish Wide Range Bar (-WRB).
– Following the failed breakout price moved back towards the bottom of the range before rallying back towards the high. Instead of making an equal high or higher high, USD/CAD put in a lower high indicating that supply increased in the area of the failed breakout.
These are some of the major points to be aware of when looking at this chart.
That said, the analysis is not done. While we do have a good amount of information to suggest that supply is increasing, we cannot place a trade without the complete picture (well, of course you can but it is certainly not suggested).
So what else do we need to do?
Check the larger timeframe…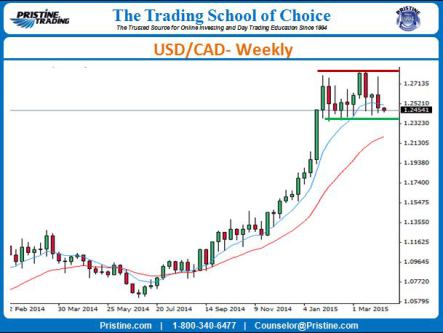 Above is the weekly chart of USD/CAD. As you can see it had an absolutely beautiful power trend higher from mid November 2014 through the end of January. Since then we have been in the aforementioned sideways consolidation but the overall trend remains bullish.
At this point, it does seem as though USD/CAD is more interested in breaking down through the bottom of the range. That said, because the weekly trend is still bullish any breakdown may be short lived and not last very long however, that does not mean bearish opportunities will not exist on the smaller timeframes.
I will be doing a FREE After Market Lesson on Wednesday, April 15 at 4:15pm ET. Click here to register! I would love to see you there! In fact, we will be taking a look at where USD/CAD has gone and what opportunities, if any setup.
Until the next time…stay patient, disciplined, and confident!