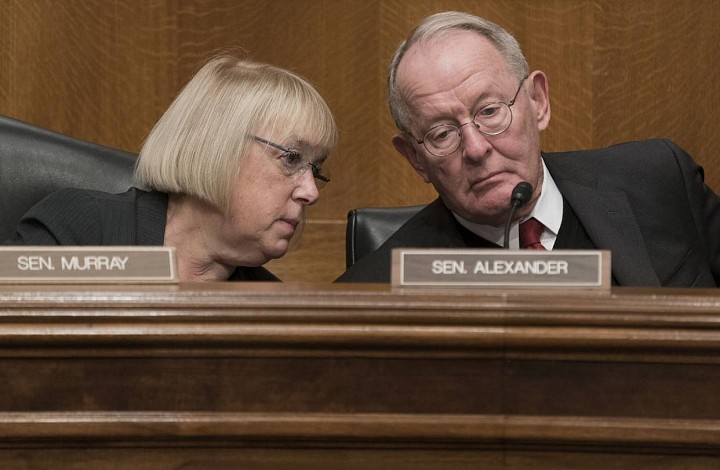 bipartisan Senate health bill would reduce the deficit by almost $4 billion over the next decade without significantly affecting the number of people who have coverage, the Congressional Budget Office found in a report released Wednesday.
Sens. Lamar Alexander (R., Tenn.) and Patty Murray (D., Wash.), the bill's co-sponsors, said the findings strongly bolster the case for their legislation. But a standoff between the White House, which wants more provisions to undo the Affordable Care Act, and Democrats, who reject such provisions, has left the measure stalled for now, with no clear path forward.
The Alexander-Murray bill would restore payments that let insurers offset subsidies for low-income consumers. It would also give states more say in implementing the ACA and expand access to lower-cost, less-robust health plans.
But the impasse between Senate Democrats, who unanimously support the bill, and President Donald Trump, who signaled his support before declaring his opposition, is showing no signs of resolution. Many lawmakers now believe negotiations will likely be pushed to the end of the year.
A federal judge in California is expected to decide Wednesday whether the Trump administration must continue making the subsidy payments to insurers even if the legislation doesn't pass. Nineteen states filed an injunction seeking to compel the federal government to resume the payments, which were halted by Mr. Trump. The judge in a hearing Monday, however, raised questions about the states' arguments.
The CBO assumed in evaluating the Alexander-Murray bill that it wouldn't be enacted until after the ACA's annual open-enrollment period launches Nov. 1. That means the bill would have no effect on premiums next year.
(More to come.)
More