Shares of Snap (SNAP) remained in freefall Friday as investors an analysts digested the messaging app maker's second quarter financial results, which missed expectations across the board.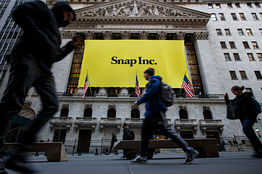 At one point, the stock slipped below the $12 mark for the first time since its IPO. Now at $12.27, the shares are down almost 11% in recent market action.
The Snapchat parent said its second quarter loss almost quadrupled as revenue growth slowed and it added fewer new users, hurt by competition from social media giant Facebook (FB). A loss of 36 cents a share was bigger than expected and revenue also fell short of expectations.
Aegis Capital's Victor Anthony advised investors to "stay clear of the stock."
What's clear from the batch of second quarter results is that the sub-scale social media platforms are having a difficult time driving monetization and users in the presence of Facebook
Michael Nathanson at Moffett Nathanson Research referred to last night's earnings report as "hubris."
Snap should never have gone public when they did or how they did. Their timing was either too early given their obvious need to improve monetization...
More