"This is going to hurt, no question," fears a landowner in Santa Barbara with a dozen oil wells. Layoffs are "kind of like a death in the family," exclaims a geophysicist in the Permian Basin. Houstonians were hoping for a hiccup, says one restauranteir, but now "they're getting more cautious." As WSJ reports, rumor is becoming reality across America as "unambiguously good" news of low oil prices turns from a trickle to a deluge of job losses and insecurity. Cutbacks aren't yet reflected in broad data on employment, home sales or tax collections. But fallout is beginning to affect people, starting with the legions working as suppliers to the energy industry.
The pain is just starting...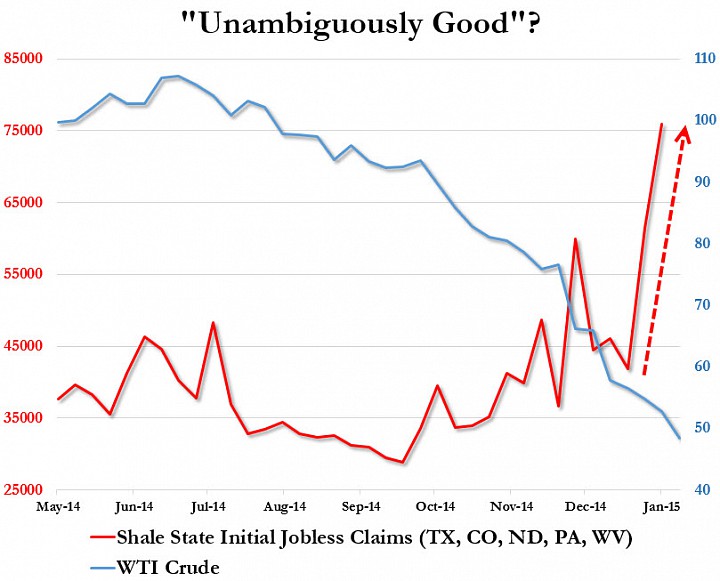 As The Wall Street Journal reports,
Trouble has been looming over the oil patch since crude prices began falling last summer, from over $100 a barrel to under $50 today. But only now are the long-feared effects of a bust starting to ripple through the complex energy ecosystem, affecting Houston executives, California landowners and oil old-timers in Oklahoma.
Chevron is not alone in mass layoffs...
Eric Herschap is chief operations officer at Exclusive Energy Services LLC, a private company in Orange Grove, Texas, that offers services, including equipment rentals, to exploration companies.
His customers are demanding price cuts of 15% to 25%, and Exclusive offers additional discounts beyond that, he says.

 

So the company laid off 10 of its 45 employees and is cutting bonuses for those who remain.

 

Mr. Herschap says his brightest engineers are now fielding phone calls from customers with technical questions.

 

Nonenergy companies that rely on roughnecks are also pulling in their horns.
Laredo, the company that closed its Dallas office, said it was laying off 75 employees, about 20% of the workforce at the company, which has a stock-market value of about $1.3 billion.
"While it is a necessary step due to the substantial drop in commodity prices and the resultant reduction in the company's drilling activities, we do not take such actions lightly," it said.

 

Mr. Silver, the geophysicist, says that after living through oil busts, he has saved for the bad times and could retire—though he doesn't want to.

 

"Probably the scariest thing out there is all of a sudden being without health insurance," Mr. Silver says. "Just being thrown in the marketplace, that's tough."
Danny and Kim Gallo moved from Connecticut to tiny Runge, Texas, last February to open Boom Town Food Trucks to serve the Eagle Ford Shale.
But the company operates just one truck and a kitchen in a trailer at the moment, and the Gallos, who have backgrounds in the hospitality industry, have decided against adding another truck for a while.

 

"You're sitting there and saying, 'Wow, did we miss the party?'" says Mr. Gallo, whose most expensive item is an $11 double chorizo burger.

 

Fancier establishments that cater to energy executives are taking action, too. Steve Zimmerman has owned a restaurant and boutique hotel in Houston for decades and remembers the oil crash of 1986. Back then, he began offering an "Oil Barrel Special," a multicourse meal with a price pegged to the (falling) cost of crude.

 

This month, he resurrected the special in an effort to attract customers while showing that he feels their pain.

 

Menus like escargot, salmon and bread pudding are on offer for about $50, depending on the closing price of West Texas Intermediate.

 

As oil prices started to fall, Houstonians were hoping for a hiccup, he says. Now, "they're getting more cautious."
*  *  *
Not 'unambiguously good' at all!!