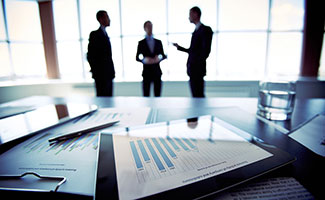 Volcker, Greenspan, Bernanke and Yellen. Which one does not belong? Logic dictates that Volcker should have been odd man out. After all, there is no legendary "Volcker Put."
The towering monetarist made no bones about never being bound by the financial markets. The same can certainly not be said of his three successors. And yet, history contrarily suggests it is to Volcker above all others that the financial markets will forever be beholden.
Many of you will be familiar with Michael Lewis' memoir, Liar's Poker. Yours truly first read the book in a Wall Street training program much like the one Lewis survived to describe in his autobiographical work. The take-away then, in late 1996, was that Gordon Gekko was right — greed was good.
Recently, a second reading of Liar's Poker, following nearly a decade inside the Federal Reserve, delivered a much different message than did that first youthful reading and was nothing short of an epiphany: Paul Volcker, albeit certainly inadvertently, created the bond market.
On Saturday, October 6, 1979. Volcker held a press conference and announced that interest rates would no longer be fixed and that further the Fed would begin to target the money supply in order to curb inflation and "speculative excesses in financial, foreign exchange and commodity markets."
Alas, this new regime was not meant to be. In trying to introduce an alternative to interest rate targeting, the Fed replaced one guessing game with another. Predicting the demand for reserves and then buying or selling securities based on that demand proved to be just as dicey as a similar exercise to target a given level of interest rates had been.
Volcker's experiment ended in 1982. But by then, the genie had escaped the proverbial bottle.
Michael Lewis explains: "Had Volcker never pushed through his radical change in policy, the world would be many bond traders and one memoir the poorer. For in practice, the shift in the focus of monetary policy meant that interest rates would swing wildly. Bond prices move inversely, lockstep, to rates of interest. Allowing interest rates to swing wildly meant allowing bond prices to swing wildly.
Before Volcker's speech, bonds had been conservative investments, into which investors put their savings when they didn't fancy a gamble in the stock market. After Volcker's speech, bonds became objects of speculation, a means of creating wealth rather than merely storing it. Overnight the bond market was transformed from a backwater into a casino."
What a casino. As Lewis points out in his book: In 1977, the total indebtedness of U.S. government, corporate and household borrowers was $323 billion. By 1985, that figure had grown to $7 trillion.
Volcker left the Fed in August of 1987 after handing the reins over to Alan Greenspan. Two short months later, there would be a celebrated birth, that of the Greenspan Put, a watershed that truly got the party started. At last check, that party's still going strong though stress fractures have begun to show on the festive facade. Of course, you wouldn't have noticed them with the celebration of credit continuing to party on.
By year's end 2015...
More