Following two stellar auctions earlier this week, when both the 3 and 10 Year showed substantial demand, and in the case of the latter a near record surge in foreign central bank takedown, today's final 30Year auction went without a glitch as the Treasury sold $13 billion in the RN0 reopening, which priced at 2.914%, through the When Issued 2.917%, lower than the 2.98% in September, and virtually unchanged from the yield the 30Y paid at the last auction of 2014. In other words, just like stocks, so the long end of the curve has gone exactly nowhere in 2015.
The Bid to Cover of 2.46 was weaker than last month's 2.536 if better than the TTM average, following some notable weakness in the first 5 auctions of the year. The internals however were solid, with Indirects taking down 56.4%, well above the average of just above 50%, while Directs took down 15.5%, the highest in 2015. This left 28.1% to the Dealers, about 7% below their TTM average.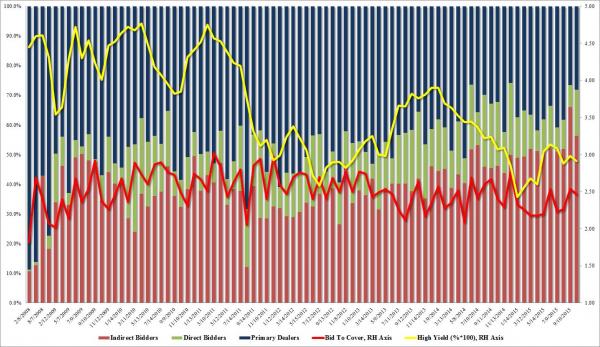 Finally, the real reason why today's auction is important is that in the aftermath of the latest tumultuous developments in the GOP, suddenly the fate of the US debt ceiling is very much uncertain: without a deal there suddenly the future of bond yields is in limbo especially if the US government enters the first week of November without a deal and with just $2 billion in emergency funding left.