The Euro has been a standout in today's trading, after being pressured the first half of the week on the back of concerns the Letta government may not survive a vote of no-confidence, following shenanigans by Silvio Berlusconi. Well, Letta stood up to the test and managed to hold onto control, which gave a sigh of relief to equity markets in Italy and to the Euro in forex markets.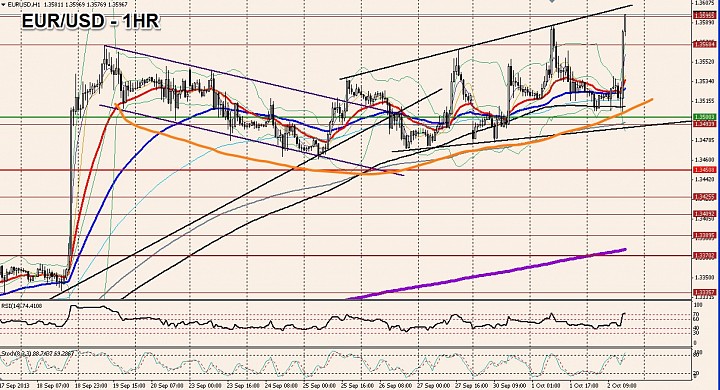 Since the FOMC decision 2 weeks ago, the EUR/USD pair has been in a consolidation period,
First there was a downward sloping trend in place for 3 sessions.
Then an upward sloping consolidation for 4-session.
Together these two periods formed a rounded bottom (though this doesn't carry as much weight compared to if this was a reversal rather than a continuation looking set-up).
Today the pair managed to hit fresh highs, a sign that it may be ready to extend gains against the USD.
However, a failure to hold these highs, and a push back into the recent consolidation zone, wouldn not only open up a move back towards 1.35, but then could open up the prospect of a double-top pattern.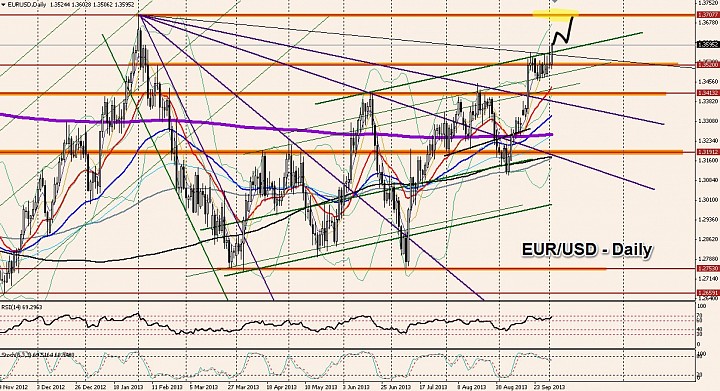 Zooming out to the daily chart, the next important resistances comes up in about 100 pips at the 1.37 handle, which was our high back on February 1st.
From this perspective (sorry for the messy chart), we have been in an upward trend over the last 3 months, and after digesting the FOMC move for 2 weeks, the pair looked poised to extend it move higher.

Still, as mentioned before, we should monitor price action for any weakness at these new highs, as that could be a signal of rejection and a "bull trap".
- Nick