While Thursday's earnings were in the clouds, as in "cloud computing," today's focus is beneath the ground, with oil majors starting to report in earnest.
Meanwhile, a rally to five-month highs in Treasury yields threatens to steal some thunder from earnings season as odds of a December Fed rate hike keep growing. And investors got a first look at Q3 Gross Domestic Product (GDP), which rose a higher than expected 2.9%.
The GDP data is the big economic news today, and that 2.9% rise compared with analyst expectations for 2.5% and first-half growth of just 1.1%. The GDP figure is a nice piece of news, and it says that maybe this holiday season could be a good one as people seem to be back out there spending. Stocks seemed to take their early cue from GDP, rising in pre-market trading.
Exxon Mobil Corporation XOM 0.72% and Chevron Corporation CVX 4% are the big oil names out with earnings this morning after ConocoPhillips COP 3.65% reported Thursday. The energy juggernaut rolls on next week with BP (BP) on Tuesday. We could find out over the next few days whether the 25% rise in oil prices since summer had an impact on energy firms' capital spending plans. Additionally, it could be important to monitor what energy executives say about the possible path of oil prices looking ahead to the coming months.
Bonds got slammed Thursday and U.S. 10-year Treasury yields climbed above 1.86% early Friday, the highest level since late May, as investors seemed more certain the Fed could hike rates in December. Odds of a rate hike are around 75%, according to CME Group futures, and that's lighting a fire under both interest rates and the dollar, which reached its highest levels since early 2016 on Thursday. From a yield standpoint, 1.87% represents a possible technical resistance level, as the market has bounced off of that a couple of times. SPX support, meanwhile, rests near 2126.
A strong dollar and rising interest rates can often push down commodity prices, and oil prices were under pressure early Friday, falling back below $50 a barrel.
High-flying Amazon.com, Inc. AMZN 4.1% shares took a hit early Friday, falling 5% in pre-market trading after the company swung and missed on earnings per share, even as revenue met expectations. Looking ahead to Q4, which includes holiday shopping, AMZN forecast net sales to be between $42 billion and $45.5 billion, representing 17% and 27% growth compared with Q4 2015. The lower end of that range was below analysts' estimates, and may be part of what's pressuring the stock early today.
The story was more positive over at Alphabet Inc GOOG 2.07% GOOGL 2.08%, which beat analysts' estimates on both top- and bottom-lines, with revenue rising 20% year over year and ad revenue up 18%. The company also announced a $7 billion share repurchase plan, and saw its stock rise in post-market action.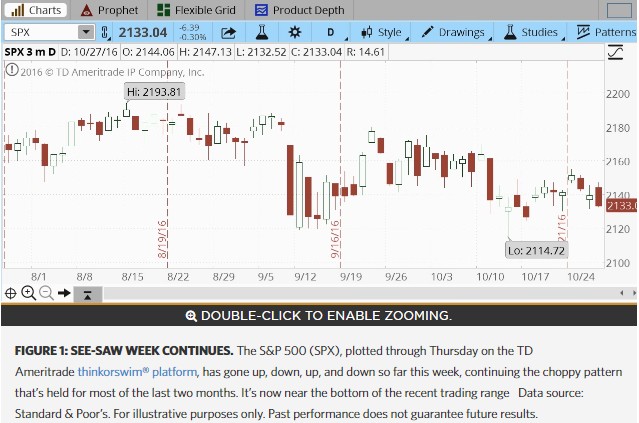 Energy Shock: As energy firms start reporting this week and next, there's concern in some quarters that the industry might not be exploring enough for more oil, The Wall Street Journal reported Thursday. Worldwide, oil-exploration spending last year was the lowest since 2007. There has been less conventional oil and gas (as opposed to resources contained in shale or oil sands) discovered in the past two-and-a-half years than in 2012 alone, the WSJ reported. Some experts told the WSJ this decline in the search for new resources may cause oil and gas stockpiles to fall in coming years, perhaps putting a charge into the oil market, and, possibly, the energy sector. But others argue this is the "new normal," and that oil giants may focus instead on buying resources from smaller companies.
Recent Economic Data Pointing Upward: The coming week is far more data oriented than this one, highlighted by next Friday's monthly jobs report. But economic reports that did come out this week, along with today's GDP number, indicated some strength. Initial unemployment claims of 258,000 were down 3,000 from the prior week; durable goods orders for September fell 0.1%, but rose 0.2% excluding transportation, and sales of new single-family houses jumped 3.1% in September to a seasonally adjusted annual rate of 593,000 from a revised August rate of 575,000. Also, crude oil stocks fell 553,000 barrels, the seventh week in eight to see a decline at a time of year when stockpiles usually rise. Does this indicate stronger gasoline demand from consumers, airlines, and trucking companies? If so, it could tell another positive story about the strength of the economy.
Does Bad News Come in Threes? The S&P 500 Index (SPX) is on track now to post its third-consecutive weaker month, something that last occurred between December 2015 and February 2016. A close above 2168 on Monday would avoid that scenario, but technical resistance at 2152 has been pretty firm lately, and even the recent spate of strong earnings doesn't seem to be giving the market much of a catalyst.
TD Ameritrade and all third parties mentioned are separate and unaffiliated companies, and are not responsible for each other's policies or services.
Inclusion of specific security names in this commentary does not constitute a recommendation from TD Ameritrade to buy, sell, or hold.
Market volatility, volume, and system availability may delay account access and trade executions.
Past performance of a security or strategy does not guarantee future results or success.
Options are not suitable for all investors as the special risks inherent to options trading may expose investors to potentially rapid and substantial losses. Options trading subject to TD Ameritrade review and approval. Please read Characteristics and Risks of Standardized Options before investing in options.
Supporting documentation for any claims, comparisons, statistics, or other technical data will be supplied upon request.
The information is not intended to be investment advice or construed as a recommendation or endorsement of any particular investment or investment strategy, and is for illustrative purposes only. Be sure to understand all risks involved with each strategy, including commission costs, before attempting to place any trade. Clients must consider all relevant risk factors, including their own personal financial situations, before trading.
TD Ameritrade, Inc., member FINRA/SIPC. TD Ameritrade is a trademark jointly owned by TD Ameritrade IP Company, Inc. and The Toronto-Dominion Bank. © 2016 TD Ameritrade IP Company, Inc. All rights reserved. Used with permission.
The following article is from one of our external contributors. It does not represent the opinion of Benzinga and has not been edited.
© 2016 Benzinga.com. Benzinga does not provide investment advice. All rights reserved.