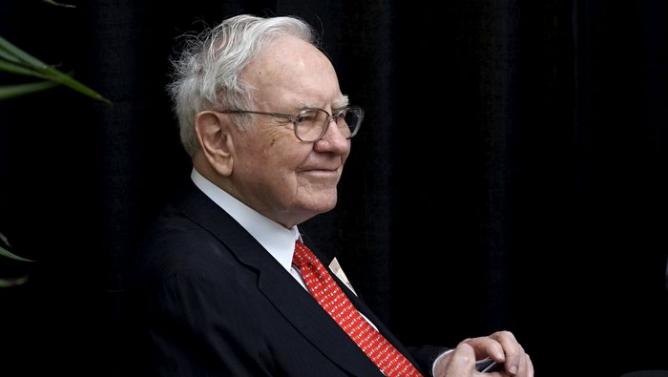 Why should we care about some 85-year-old Ukulele-plucking, bridge-playing Nebraska billionaire, who seems to get richer and happier every single year? (As if that alone wasn't reason enough to know everything about the man…)
I'm posing this question both for those who've barely heard of Buffett—or maybe never heard of him—and for those who know all about the man.
The reason for knowing about Buffett, and the case for caring about him, has a number of layers. Like Buffett himself, it's a brief that is both simple and complicated. I've spent a fair amount of time with Buffett over the past four decades and I can tell you the man is an American original. He's a homespun sophisticate, a modern-day Will Rogers or Mark Twain with thousands of acolytes who hang on his every word. There are dozens of books about him and or filled with his wisdom and zingers ("You can't tell who's swimming without a bathing suit until the tide goes out.") Buffett is a polymath who survives on a diet of cheeseburgers and Coke. And as a counselor to CEOs, movie stars, athletes and presidents, Warren Buffett is one of the most sustainably consequential Americans of our time.
Let's start with the more mundane, numerical stuff and then elevate to the conceptual. For starters Buffett is the CEO and the creator of Berkshire Hathaway (BRK-A, BRK-B), the fourth largest company in America—tucked in between Chevron #3 and Apple #5.) I say creator because he bought Berkshire in 1965, then a failing textile concern, but the company has moved so far beyond that, for all intents and purposes he is the founder as well. Berkshire is the only company among America's largest five or 10 or 20 companies (Exxon, Walmart, GE) that is run by the person who built it. Berkshire today is a conglomerate that owns 62 companies some of them giant and or household names like such as BNSF (Burlington Northern and Santa Fe Railway), Geico, Fruit of the Loom, and Dairy Queen. The overall company has sales of almost $200 billion and employs some 350,00 Americans (though only 25 at headquarters.). It also has a substantial investment portfolio and owns big stakes in companies like Mars, Coca-Cola (KO), Wells Fargo (WFC) and Kraft Heinz (KHC). And Berkshire is one of the largest insurance companies in the world.
Berkshire is still growing too. I recently suggested to Buffett that it's too bad Berkshire could never become the biggest company in America and he cocked his eye and said something to the effect of, "Why couldn't it?"
Woodstock for capitalists
So you could make a pretty convincing case that Buffett is America's greatest living businessman. It's even more unassailable that he is the greatest investor of our time. This Saturday in Omaha, Buffett will preside over the 51st annual meeting of Berkshire Hathaway. The Century/Link Center will be filled with some 40,000 investors at what is known as Woodstock for Capitalists, a great many of these folks are millionaires—and a few of them billionaires—just by dint of owning Berkshire Hathaway stock. Even if you had gotten in at the halfway point you'd be sitting pretty.
A share of Berkshire 25 years ago today would have cost you $8,075. Today it's worth $218,530. That's a profit of $210,455 or 2,506%. That means your $8,075 investment is now worth 26 times what it was in 1991. On an annualized basis, it's a return of 14.1% per year, every year, for 25 years. You've doubled your money, on average, every 5 years and 3 months.
Buffett is constantly buying low and either holding on forever as a company's stock continues to appreciate, or selling out when he thinks...
More