Daily Observation
The focus today is on the U.S. April Employment Report to be released at 8:30 AM EDT. Traders are expecting Non-farm Payrolls to come in at 207,000. However, the lower than expected ADP report released on Wednesday suggests that consensus probably is high. Strength in the bond market yesterday implied a lower than consensus report.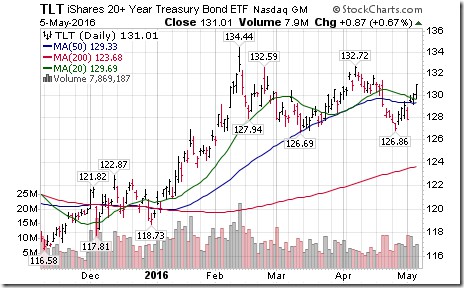 Focus closely on the Hourly Earnings segment in the report. Wage rates in the U.S. are watched closely by the Fed and have been creeping higher. Another 0.3% increase expected in April will push the annual rate above the level where the Fed will show concern about wage inflation, a trigger that could prompt an increase in the Fed Fund rate in June.
StockTwits Released Yesterday @EquityClock
Days of supply of oil nears the highest level on a record above 34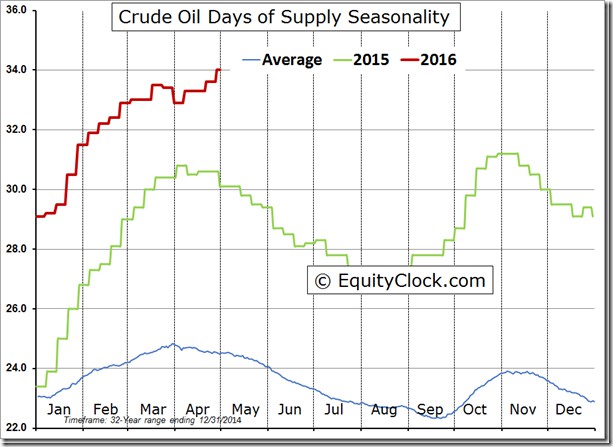 Technicals by S&P 500 stocks to Noon: Bearish. Breakouts: $CHD, $AIV, $ALL. Breakdowns: $BWA, $GPS, $KORS, $KSS, $LB, $TIF, $URBN, $ABC, $JNPR, $MCHP, $CTL
Editor's Note: After Noon, two more S&P 500 stocks broke support: SanDisc and PVH Corp.
Breakdowns were dominated by retail stocks. $XRT broke support at $43.17 to set downtrend: $GPS, $KORS, $LB, $TIF, $URBN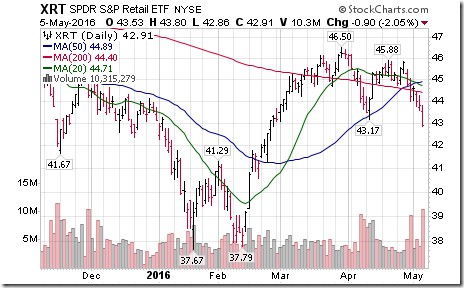 Trader's Corner
Minor declines by Technical scores yesterday!
Daily Seasonal/Technical Equity Trends for May 5th 2016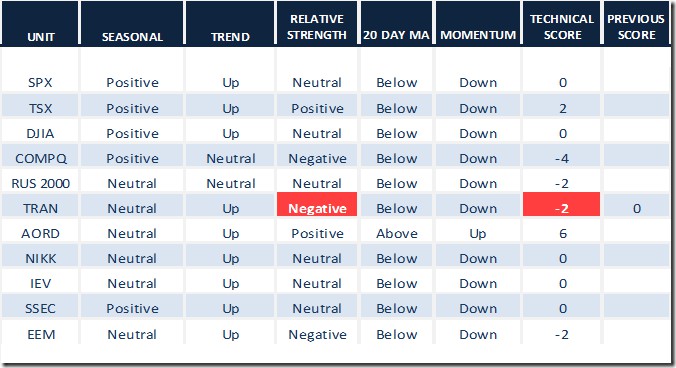 Green: Increase from previous day
Red: Decrease from previous day
Daily Seasonal/Technical Commodities Trends for May 5th 2016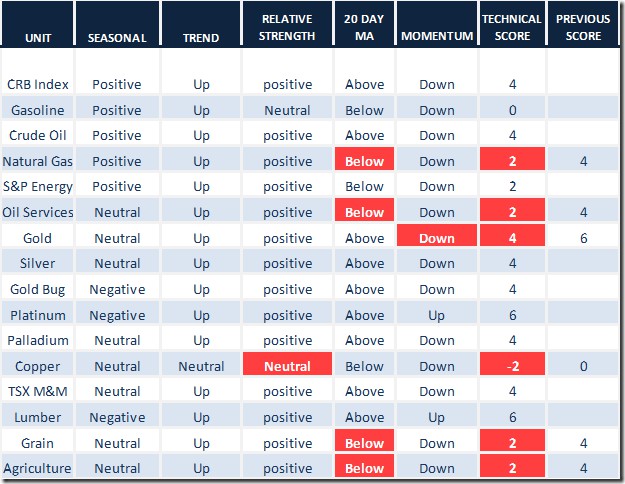 Green: Increase from previous day
Red: Decrease from previous day
Daily Seasonal/Technical Sector Trends for March May 5th 2016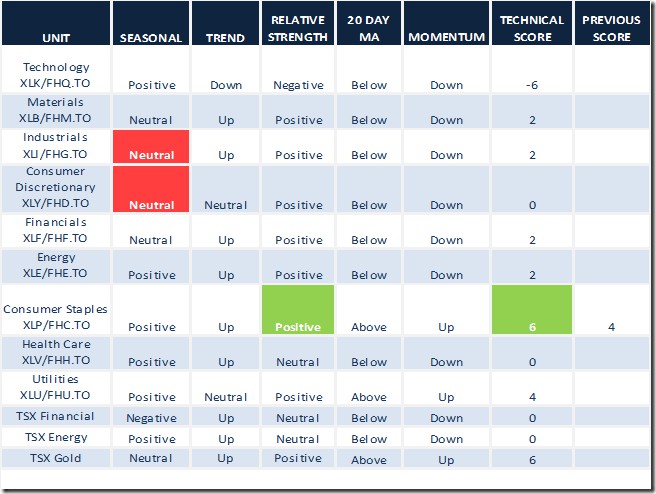 Green: Increase from previous day
Red: Decrease from previous day
S&P 500 Momentum Barometer
The Barometer slipped again, off another 2.60 to 60.40. The Barometers remains intermediate overbought and trending down.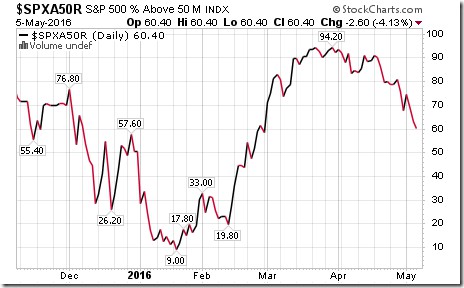 TSX Composite Momentum Barometer
The Barometer slipped lower, down another 4.31 to 62.93. The Barometer remains intermediate overbought and trending down.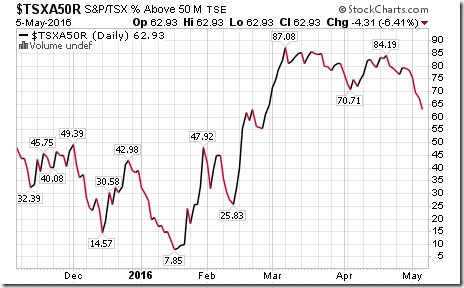 Adrienne Togharie's "Trader's Coach" Column

Profit Gaps
By Adrienne Toghraie, Trader's Success Coach
What part of your trading needs improving in order for you to receive the greatest profit from your strategy?
Most people spend an inordinate amount of time choosing an entry point, but if they focused their attention on money management, they would receive a greater reward from their trading efforts. Of course, the same has been said about top traders with regards to the psychology of trading versus the strategy itself. They believe that if they had spent more time on themselves in the beginning of their trading careers, a winning strategy would have been more recognizable and they would have had an easier time to follow it.
In any case, what is important now in your evolution towards mastery as a trader is that you recognize where the gaps are to making a higher profit margin so you can work on them.
Late on arrival
Scott began his trading career by going to a meet-up group where they would have a new speaker on trading techniques every month. Each of these speakers proclaimed that they had the answers to becoming a top trader. By the time Scott chose a school to attend by one of the speakers, he had received too much information on indicators as to how to determine the best way for taking a trade. Even though his new instructors were very specific about entry, Scott was confused because of everything else that he heard from others.
Scott finally started to trade by listening to his instructor on a live chat. He would indicate that an opportunity was being formed, and then when it was formed, he stated that this was the time that he was taking the trade. Scott decided to check other time frames and indicators which made him hesitate for more confirmation. When everyone else earned his or her profit from the trade, Scott was still waiting. This became a pattern. Scott was able to find opportunities with his highly filtered strategy, but he took such few trades that he missed out on many of the opportunities that the strategy would allow.
Moving target
Will was on target getting into a trade without hesitation. Where Will faltered was on his exit. He did not believe in a physical stop. He felt it was important to flow with the markets, which worked for him most of the time. The problem that Will faced was when there were interruptions. Will was not good about letting his answering machine get the phone, answering his emails later in the day, or letting a package be left at the front door without immediately receiving it in hand. He was an instant gratification junky. This need for being on top of everything at the same time led to losses in trading.
No matter what
John would trade with the code of a mailman, never missing a day. If you tracked John over the years you would find that whenever he was sick, stayed up too late or had a disagreement with someone he was not on target with making trading decisions.
Steady as she goes
Alice was a steady trader for many years. She could bank on a range of profit that she could put in her savings account from trading. Based on her strategy and her account, she should have been able to risk more and make more profits. Now, if Alice was content with the status quo, this would not be an issue, but because she knew that she could earn more, she was never happy or satisfied with herself. This dissatisfaction would not allow her to treat herself to a vacation. When I finally saw her, it was when her profit range was no longer something she could count on.
Everything but the prize
Kevin being the academic he was made sure that he received a good foundation for understanding the markets, putting together a plan that included a well-defined strategy. In simulation he was a paper millionaire. Then he started to trade real money. At first everything was as he expected until he had a draw-down. Fear made him question himself and his ability. He went back to simulation and found that he could not produce the same results as he did before because he could not follow his rules.
Conclusion
In my experience as a trader's coach there are always gaps to being more profitable. Those who recognize the fact that they could be earning more profits and decide to take action are those who are more likely to find themselves in the company of top performance traders.
Adrienne's Free Webinars
Adrienne presents free webinars on the psychology of trading
Email Adrienne@TradingOnTarget.com
CSTA Events
Toronto Chapter Meeting
7:00 PM May 10th
North York Central Library: 5120 Yonge Street
Speaker: Huzefa Humid
Topic: My road to becoming a full time trader
Register at www.csta.org. Everyone welcome
Oakville Chapter Meeting
7:00 PM May 11th
Oakville Town Hall: Palermo Room
Speaker: Chris Vermeulen
Topic: Short term market tops and bottoms
Register at www.csta.org . Everyone welcome
Special Free Services available through www.equityclock.com
Equityclock.com is offering free access to a data base showing seasonal studies on individual stocks and sectors. The data base holds seasonality studies on over 1000 big and moderate cap securities and indices. To login, simply go to http://www.equityclock.com/charts/ Following
is an example: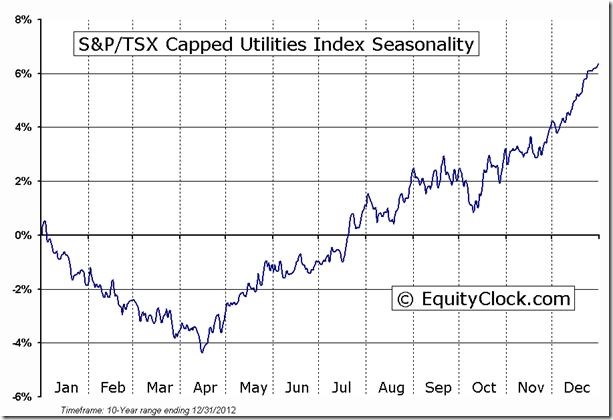 Disclaimer: Seasonality and technical ratings offered in this report by www.timingthemarket.ca and www.equityclock.com are for information only. They should not be considered as advice to purchase or to sell mentioned securities. Data offered in this report is believed to be accurate, but
is not guaranteed