We expect Conatus Pharmaceuticals Inc. CNAT to beat expectations when it reports first-quarter 2017 results on May 4, after the market closes.

Conatus' earnings history is a mixed bag. The company surpassed expectations on two occasions, missed expectation in one and posted in-line results in another with an average beat of 3.90%. Conatus posted a negative earnings surprise of 9.38% in the last quarter.
Conatus Pharmaceuticals Inc. Price and EPS Surprise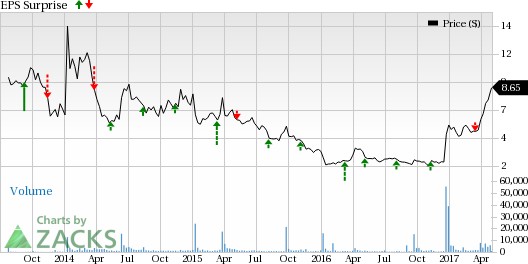 Conatus Pharmaceuticals Inc. Price and EPS Surprise | Conatus Pharmaceuticals Inc. Quote
Conatus Pharma's shares have gained 64.1% so far this year. This compares favorably with the 14.3% increase registered by the Zacks classified Medical-Products industry during this period.





Let's see how things are shaping up for the first-quarter results.
Earnings Whispers
Our proven model shows that Conatus is likely to beat on earnings because it has the right combination of two key ingredients.
Zacks ESP: The Earnings ESP, which represents the difference between the Most Accurate estimate (loss of 6 cents) and the Zacks Consensus Estimate (loss of 14 cents), stands at +57.14%. This is a meaningful indicator of a likely positive earnings surprise. You can uncover the best stocks to buy or sell before they're reported with ourEarnings ESP Filter.
Zacks Rank: Conatus currently has a Zacks Rank #3 (Hold). Note that stocks with Zacks Rank #1 (Strong Buy), 2 (Buy) or 3 have a significantly higher chance of beating on earnings.
Conversely, we caution against stocks with a Zacks Rank #4 or 5 (Sell-rated) going into the earnings announcement, especially when the company is seeing negative estimate revisions.
The combination of Conatus' favorable Zacks Rank and a positive Earnings ESP makes us reasonably confident of a positive earnings beat.
Factors at Play

With no approved product in Conatus' portfolio at the moment, the company does not generate revenues yet. Hence, investor focus will likely be on the company's progress with emricasan, a first-in-class, orally active pan-caspase protease inhibitor that is being developed for the treatment of chronic liver disease.

Emricasan is being evaluated in various phase II studies for the treatment of chronic liver disease, including NASH fibrosis. In Nov 2016, Conatus initiated ENCORE-PH to evaluate the effect of emricasan for the reduction of hepatic venous pressure gradient (HVPG) in patients with compensated or early decompensated liver cirrhosis caused by NASH, and severe portal hypertension (PH) confirmed by HVPG of greater than or equal to 12 mmHg at baseline.

Conatus also plans to initiate additional studies – ENCORE-LF and ENCORE-XT – on emricasan under the ENCORE program on a staggered basis through the first half of 2017.

In Dec 2016, Conatus signed an exclusive option, collaboration and license agreement with Novartis AG NVS for the worldwide development and commercialization of emricasan. Conatus received an upfront payment of $50 million from Novartis and is entitled to receive future milestone payments and royalties on sales, if emricasan is approved. The upfront payment should boost the company's revenues in the first quarter of 2017.

Meanwhile, operating expenses at the company are expected to rise, particularly research and development costs, due to continued investment toward the development of emricasan.
Stocks That Warrant a Look
Conatus Pharmais not the only company looking up this earnings season. Here are some health care stocks that you may want to consider as our model shows that these have the right combination of elements to post an earnings beat this quarter.
Proteostasis Therapeutics, Inc. PTI, which is expected to release results on May 12, has an Earnings ESP of +5.17% and a Zacks Rank #1. You can see the complete list of today's Zacks #1 Rank stocks here.
ImmunoGen, Inc. IMGN is scheduled to release results on May 5. The company has an Earnings ESP of +8.33% and a Zacks Rank #3.
5 Trades Could Profit "Big-League" from Trump Policies
If the stocks above spark your interest, wait until you look into companies primed to make substantial gains from Washington's changing course.
Today Zacks reveals 5 tickers that could benefit from new trends like streamlined drug approvals, tariffs, lower taxes, higher interest rates, and spending surges in defense and infrastructure. See these buy recommendations now >>
Want the latest recommendations from Zacks Investment Research? Today, you can download 7 Best Stocks for the Next 30 Days.
Click to get this free report
Novartis AG (NVS): Free Stock Analysis Report
Conatus Pharmaceuticals Inc. (CNAT): Free Stock Analysis Report
Proteostasis Therapeutics, Inc. (PTI): Free Stock Analysis Report
ImmunoGen, Inc. (IMGN): Free Stock Analysis Report
To read this article on Zacks.com click here.
Zacks Investment Research