PPI Final Demand was unchanged in August (+0.0% against expectations of +0.0%) making it lowest monthly gain since December 2013 (after revisions moved May's data). Across the board producer prices rose (or didn't) as expected with Final Demand YoY +1.8%. Energy prices fell 1.5% MoM and was the biggest driver of PPI's relative weakness but notably prices for finished goods fell 0.3% - the biggest drop since August 2013.
PPI Final Demand MoM lowest in a year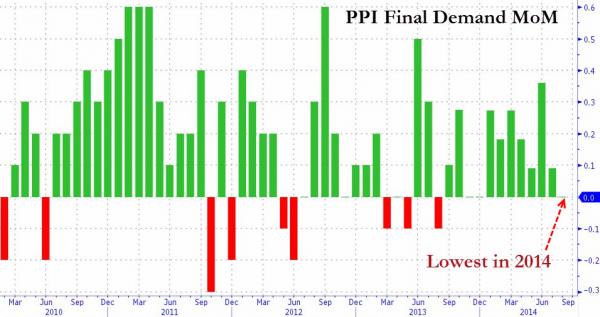 Another way of seeing the drop in wholesale prices: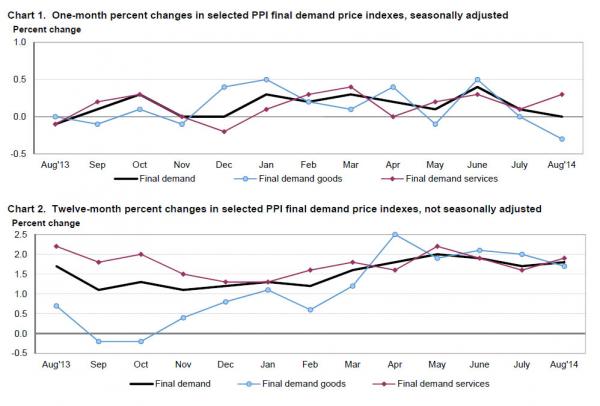 Most of the August decrease can be traced to the index for finished consumer energy goods, which fell 1.4%.
Within finished goods, falling prices for gasoline, residential natural gas, eggs for fresh use, home heating oil, pork, and fresh vegetables (except potatoes) outweighed rising prices for pharmaceutical preparations, potatoes, and processed fruits and vegetables.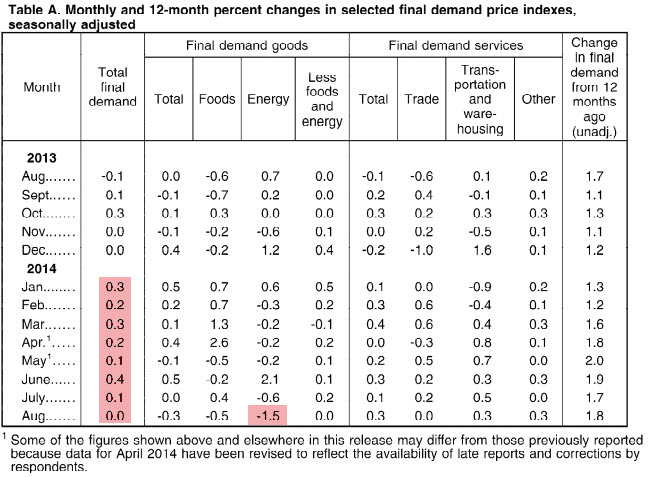 And from the report:
Final demand services: The final demand services index climbed 0.3 percent in August after inching up 0.1 percent in July. Eighty percent of the August advance can be traced to a 0.3-percent rise in prices for final demand services less trade, transportation, and warehousing. The index for final demand transportation and warehousing services also increased 0.3 percent. Margins for final demand trade services were unchanged. (Trade indexes measure changes in margins received by wholesalers and retailers.)
Product detail: Accounting for over 20 percent of the August advance in the index for final demand services, prices for loan services (partial) increased 1.7 percent. The indexes for traveler accommodation services; health, beauty, and optical goods retailing; hospital outpatient care; securities brokerage, dealing, and investment advice; and airline passenger services also moved higher. In contrast, prices for services related to securities brokerage and dealing fell 4.5 percent in August. The indexes for food and alcohol retailing and for truck transportation of freight also decreased. (See table 4.)
Final demand goods: The index for final demand goods moved down 0.3 percent in August, the largest decrease since a 0.7-percent drop in April 2013. Over 80 percent of the August decline is attributable to prices for final demand energy, which fell 1.5 percent. The index for final demand foods decreased 0.5 percent. Prices for final demand goods less foods and energy were unchanged.
Product detail: Over a quarter of the decline in prices for final demand goods can be attributed to the gasoline index, which fell 1.4 percent. Prices for utility natural gas, chicken eggs, diesel fuel, electric power, and raw cotton also moved lower. Conversely, the index for potatoes surged 28.0 percent. Prices for pharmaceutical preparations and jet fuel also advanced.
Special grouping, Final demand less foods, energy, and trade: The index for final demand less foods, energy, and trade services advanced 0.2 percent in August, the third consecutive 0.2-percent increase. For the 12 months ended in August, prices for final demand less foods, energy, and trade services rose 1.8 percent. (The index for final demand less foods, energy, and trade services represents about two-thirds of final demand.)
Special grouping, Finished goods: Prices for finished goods fell 0.3 percent in August, the largest decrease since a 0.6-percent decline in April 2013. (The finished goods index represents about twothirds of final demand goods, through the exclusion of the weight for government purchases and exports. The finished goods index represents about one-quarter of overall final demand.) Most of the August decrease can be traced to the index for finished consumer energy goods, which fell 1.4 percent. Prices for finished consumer foods moved down 0.3 percent. In contrast, the index for finished goods less foods and energy edged up 0.1 percent. Within finished goods, falling prices for gasoline, residential natural gas, eggs for fresh use, home heating oil, pork, and fresh vegetables (except potatoes) outweighed rising prices for pharmaceutical preparations, potatoes, and processed fruits and vegetables