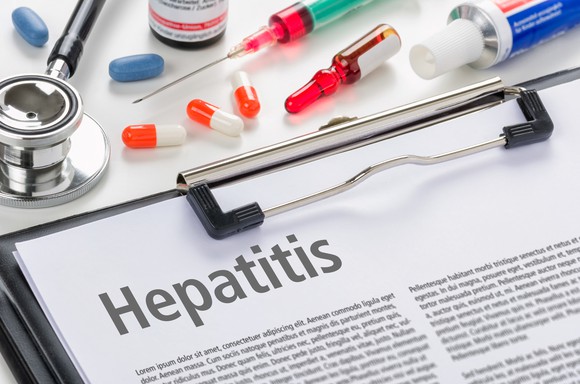 Antiviral champ Gilead Sciences (NASDAQ:GILD) recently earned FDA approval for another hepatitis C virus (HCV) combination treatment, Epclusa.
Epclusa is poised to boost Gilead's numbers by filling an important niche that has been somewhat overlooked, and Bristol-Myers Squibb (NYSE:BMY) is about to lose hundreds of millions annually in the process.
Gilead could really use the win in the hepatitis C space, too, since competing drugs from AbbVie (NYSE:ABBV) and Merck & Co. (NYSE:MRK) have entered the HCV space have stolen some market share from Gilead's previous combination sensation, Harvoni.
Let's take a closer look at Epclusa's and Harvoni's advantages over existing treatment options, and what it could mean for Gilead's sales in the years ahead.
Ribavirin... yuck!
Ribavirin is poorly tolerated antiviral, with long list of unpleasant and dangerous side effects, including abnormal breakdown of red blood cells that can lead to a heart attack. Gilead's Harvoni for treatment of HCV genotype 1, the most common type, only requires a combination of ribavirin in patients with advanced cirrhosis.
AbbVie's Viekira Pak is only approved for HCV type 1 and requires testing to see if patients have a strain of 1a or 1b. If they're among about 55% of U.S. HCV type 1 patients with strain 1a, Viekira Pak treatment requires combination with ribavirin.
Merck's Zepatier is approved for types 1 and 4 but also requires combination with ribavirin in patients with a strain of the virus resistant to certain antivirals, which also involves a test.
Despite Harvoni's advantages, entrance of these rivals from Merck and AbbVie have pressured its sales, which slid...
More