Last week, we noted that a "negative reversal" signal suggested another downswing in the price action of Halliburton (HAL) stocks. I just want to keep our eyes on HAL look as price makes a new low on the year.

Halliburton (HAL) Daily Chart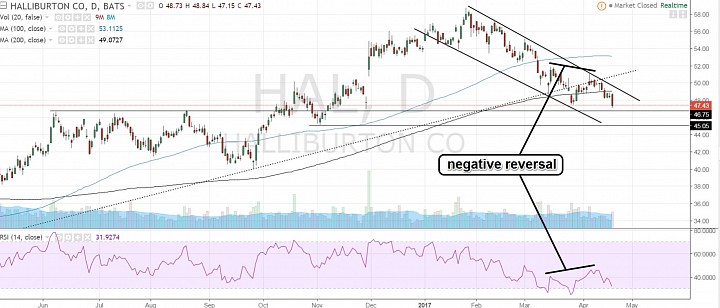 (click to enlarge)

Bearish Continuation:
- As the negative reversal suggested, price action is in bearish continuation as HAL makes a new low on the year.
- We noted in the previous update that the next support is likely around 46.75. 
Bearish:
- While the market is bearish now, we can see that the overall market has been bullish, and the current choppy downtrend could simply be a major bearish correction.
-  But we should anticipate some support now that price is approaching a  previous consolidation range (from June to October in 2016).
- 46.75 represents the top of that previous consolidation area. 
- There is downside risk to 45-45.05 as well.
Bullish Outlook:
- From the support levels noted above (46.75 and 45-45.05), we should anticipate a bullish outlook back towards 50.00. I think at this point, if price can clear and close a week above 50, HAL would be back on its bullish trend. 
- But before we hop on the bullish outlook, we have to anticipate further downside. 
- If we catch HAL forming a bullish divergence while price is in the noted support areas, than we can and should start considering the bullish outlook.