September isn't even over yet, but ADP already knows how many jobs were added for the full month of September: precisely 200K, which just happens to be the consensus expectation for Friday's NFP number.
With job growth having hovered back at its lowest since January 2014 for much of the year (with a modest inventory-stacking bounce in May and June), September's small beat (200k vs 190k exp) did very little to change that trend. Once again the gains were dominated by the Services-providing sector (188k vs 12k goods-producing) and large companies dominated the gains. Year-over-year job growth was 2.21%, the slowest since April 2014 and while construction rose 35k in September, Manufacturing dropped 15k. As Zandi said "The job market is a machine, it's just pumping out a lot of jobs," so we assume that means an October Fed rate hike?
"Steady"...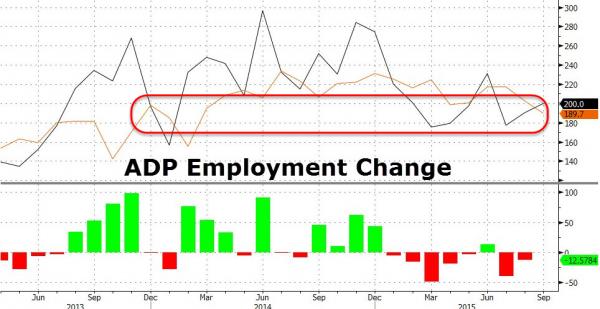 But Manufacturing jobs collapsed at the fastest rate since Jan 2010...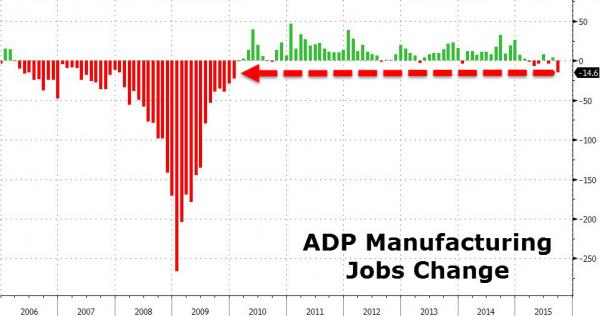 Incidentally, we noted precisely this a few weeks ago parsing the BLS data, only there the drop was the biggest going back only to July 2013. If ADP is right, expect Manufacturing Jobs slaughter on Friday: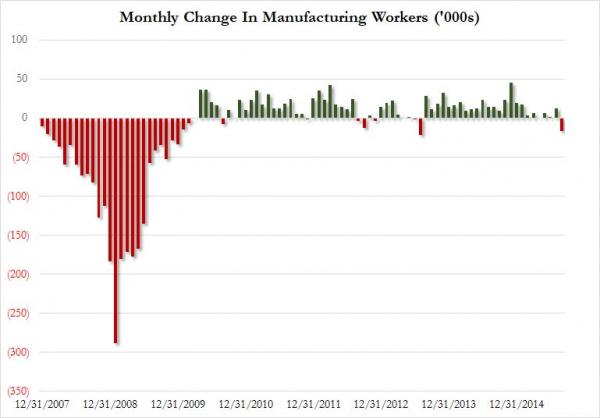 Payrolls for businesses with 49 or fewer employees increased by 37,000 jobs in September, less than half of the August gain. Employment among companies with 50-499 employees increased by 56,000 jobs, 18,000 fewer than the previous month. Employment gains at large companies – those with 500 or more employees – rose dramatically from August, adding 106,000 jobs in September. However, companies with 500-999 lost 3,000 jobs. Companies with over 1,000 employees added 109,000 jobs, accounting for over half the total jobs added for the month.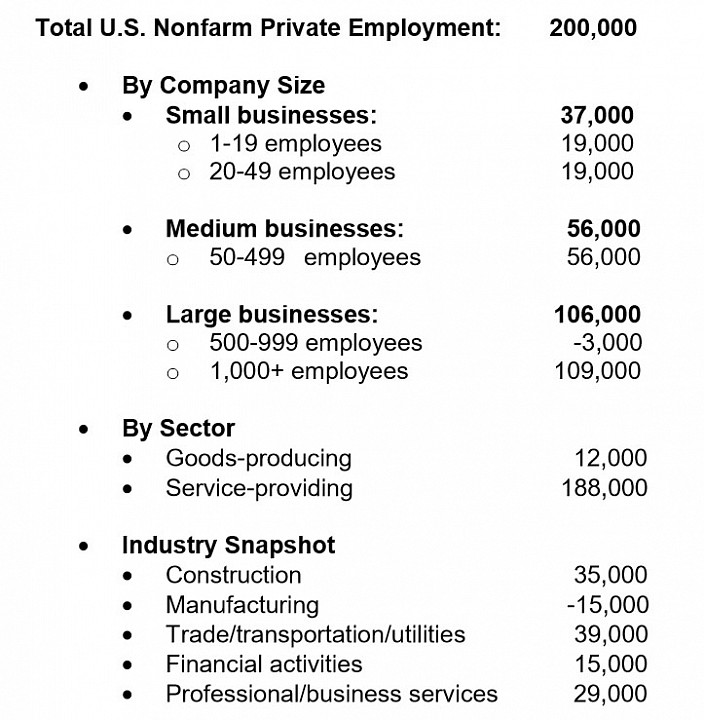 Some more pretty, if utterly meaningless, charts.
Change in nonfarm private employment: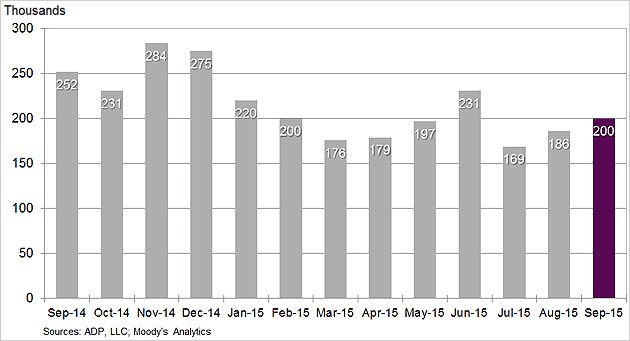 Change in Total Nonfarm Private Employment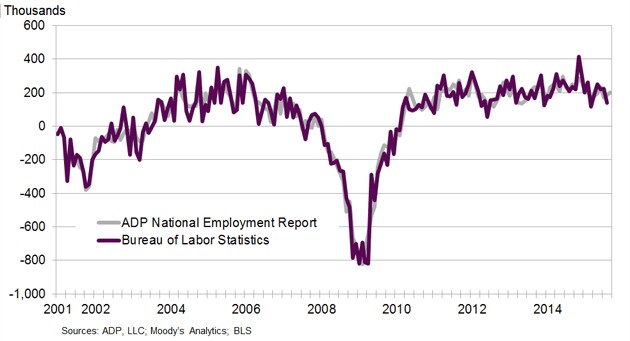 Change in Total Nonfarm Private Employment by Company Size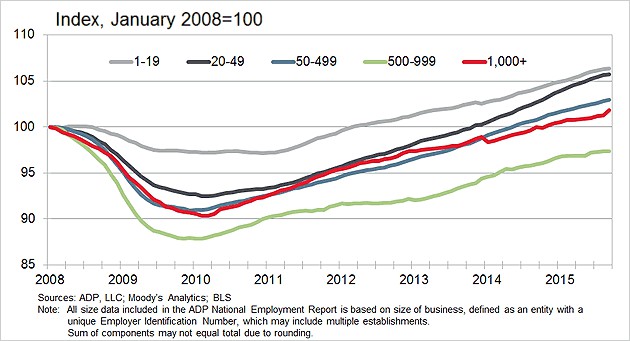 Change in Total Nonfarm Private Employment by Selected Industry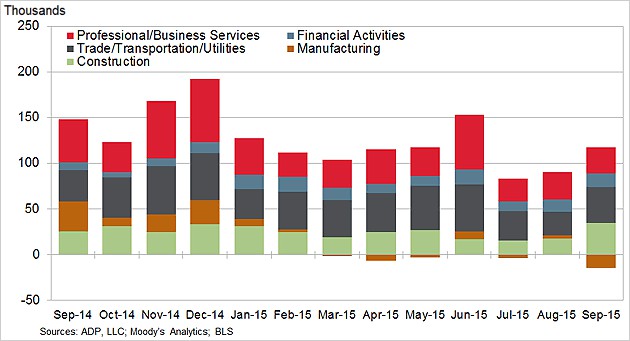 As ADP details,
"Businesses with more than 1,000 employees contributed over half of the job gains in September, despite weakness in energy and manufacturing," said Ahu Yildirmaz, VP and head of the ADP Research Institute. "The largest companies appear to be starting to overcome the impacts of weak global demand and the high dollar, while the smallest companies may have pulled back as concerns about the resiliency of the U.S. economy grew and consumer confidence softened."

 

Mark Zandi, chief economist of Moody's Analytics, said, "The U.S. job machine continues to produce jobs at a strong and consistent pace. Despite job losses in the energy and manufacturing industries, the economy is creating close to 200,000 jobs per month. At this pace full employment is fast approaching."
Full ADP Breakdown
/www.adpemploymentreport.com/2015/September/NER/images/infogr..." title="http://www.adpemploymentreport.com/2015/September/NER/images/infographic/main/NERinfographic-September2015.gif">http://www.adpemploymentreport.com/2015/September/NER/images/infographic..." width="598" />
So Rate Hikes are coming? What is The Fed worried about?
Charts: Bloomberg