The stock market killed in 2017, with the S&P 500 up 19% and the Nasdaq up a whopping 28%.
And things are starting off just dandy in 2018 too!
The S&P 500 rose 0.8% on the day, hitting a record high of 2695.89.
The Nasdaq also hit a record high, while the Dow Jones Industrial Average stayed within striking distance of the 25,000 Mark.
And the Russell 2000 managed to squeeze up in the final minutes of trading to finish up 0.9% at 1550.01.
Biotechnology ruled the roost today, with the Nasdaq Biotech ETF (IBB) squeezing up over 2% today.
By the way, did you know that Scott Redler had 3 biotech picks in his 2018 Market Outlook Report?
One of them rose 2.4% today.
The other two, which were options plays, did SLIGHTLY better.
One's up 42%. The other's up 25%.
42%, 25%, and 2.4%. Not a bad way to start the year, right?
And oh yeah — Scott's #1 cryptocurrency play (not going to name it out of respect for our customers) is up 27%!
Anyway…
The positive economic trends continued on the first day of the year.
The December Manufacturing PMI was 55.1, beating the 55.0 consensus.
Treasury yields started the year on a positive note, though bank stocks underperformed the SPX by a large margin.
Given how far the banks came in 2017, I'd say that's no big deal.
Gold stood out big time today, rising 0.8% to $1,319.50.
And the Vaneck Vectors Gold Miners ETF (GDX) rose 2.5% today.
My colleague Jeff Cooper has been all over gold, saying this today:
The key level to watch on gold to kick off 2018 looks like $1310-$1311.
Why?
$1310-$1311 is 90 degrees square January 2nd on the Square of 9 Wheel.
This week will be pivotal for gold.
So with a line-drive move to this time/price harmonic, it would not be surprising to see a pullback/consolidation.
The nature of that pullback will be important to observe.'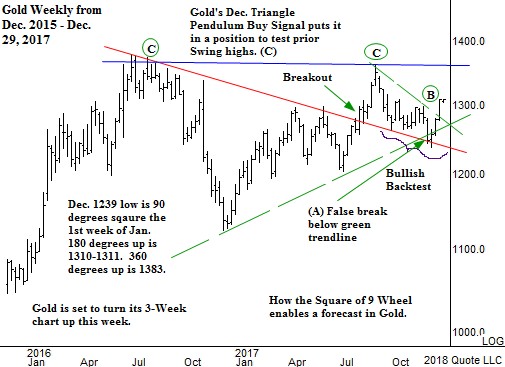 If gold knifes through $1311 and holds, the indication is for accelerated momentum.
Another 90 degrees up from $1311 ties to $1347 and the September high.
Click here for Jeff's latest report on gold.
CBOE Bitcoin Futures started the New Year on a lousy note, trading as low as $13,060 yesterday.
However, we've since seen a turnaround, with the front-month future crossing $15,000 today.
Meanwhile, Etherium has been absolutely ripping, starting the new year at $739 before setting new record highs above $900 today.
This $900 level looks like a key one.
This morning, T3's Kurt Capra said "a close above $900 is the signal traders are looking for to signal another wave higher, possible through $1000."
And in keeping with the recent trend, traders are very bullish.
The CBOE Equity-Put Call ratio's latest reading is 0.59. This is below the 0.655 long-term average.
The 10-day moving average is 0.565, which is extremely low on a historical basis.
And the 3-day moving average, which I use to measure very short-term bullishness, is 0.57 – again, pretty darn low.
Meanwhile, the ISE Sentiment Index was over 200 at the open today, indicating that traders were buying more than 200 calls for every 100 puts. This means extreme short-term bullishness.
Options investors did the happy dance for the last few weeks of 2017, and that's evidently not changing as we turn the calendar to 2018.
Now, if you're looking for ideas, I can't recommend Scott Redler's 2018 Market Outlook Report enough.
It's 100 pages of incredible trading content with 24 actionable picks plus a big education section.
Click here to check it out.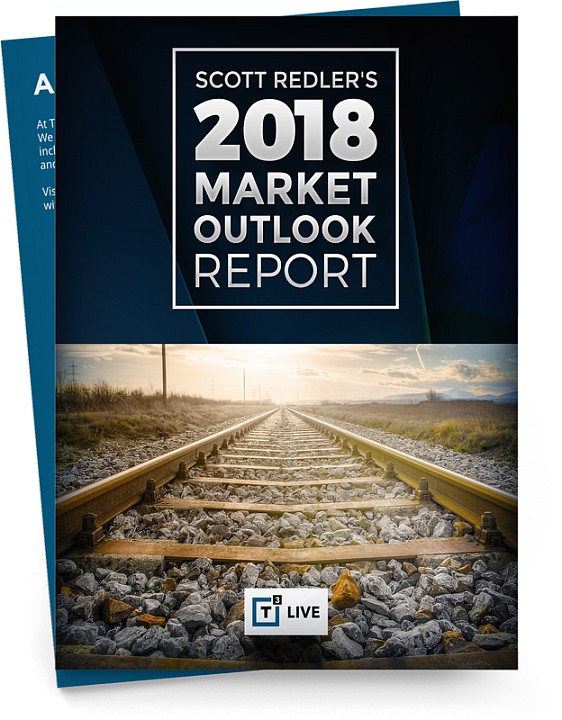 More