And then there were eleven (in tonight's main event). With everyone ready to rumble with The Donald, Carson ever-so-quietly gaining ground, and Fiorina showing face alongside the men, tonight's Round Two of the Republican Presidential Nomination debate should be full of fireworks. Trump is odds-on to have the most to say but all eyes will likely be on CNN's anchors (and whether they go full Megyn Kelly), just what will Trump say, the rematch of Rand vs Christie, and of course the mano-a-womano Trump-Fiorina slam, especially after President Obama said there is "nothing patriotic about talking down America," or, it appears, telling the truth. Grab some popcorn...
The frantic fifteen...(Note - Santorum, Jindal, Pataki, Graham were all demoted to the under-card debate earlier at 6pmET)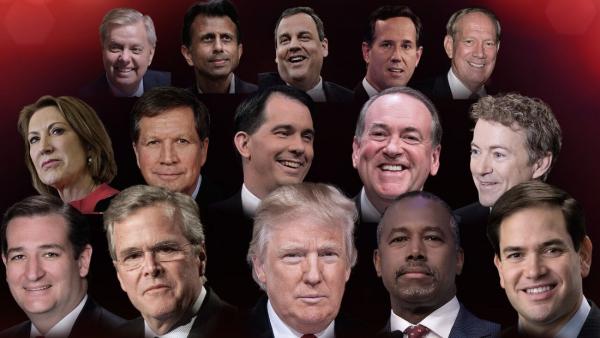 And the front-runners...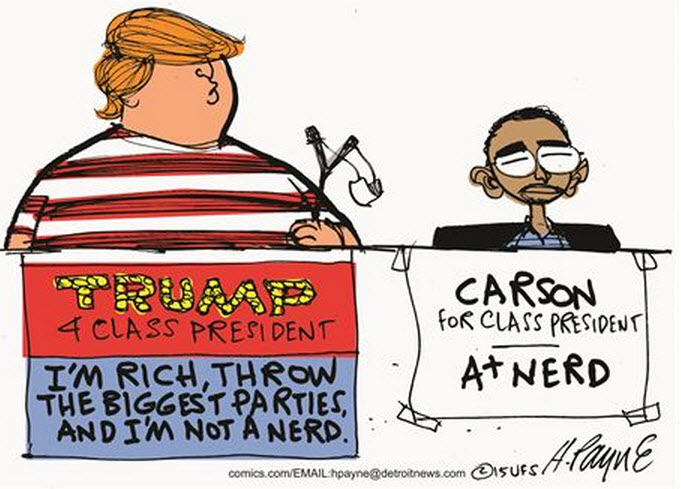 Trump tops the Searches...
CNN explains the rules - no biting, no punching below the waist...
Live Stream (via CNN)... (click image for link to CNN feed - no embed provided)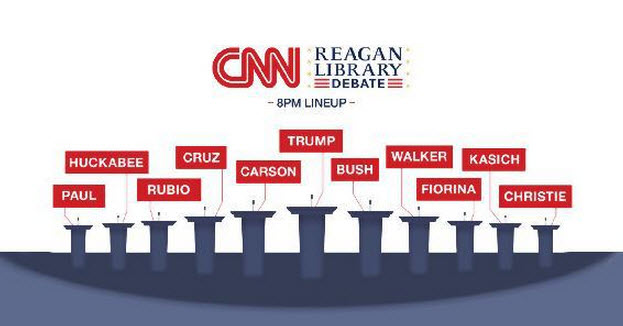 *  *  *
And do not forget to fill out your Bingo Card...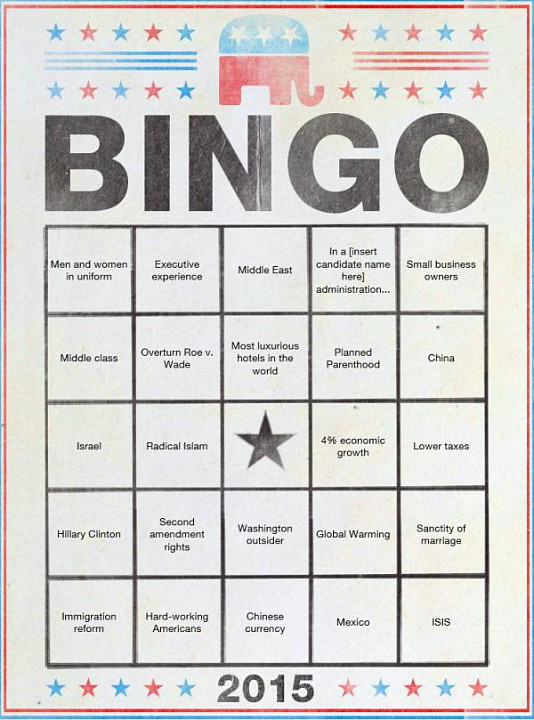 *  *  *
NBC News offers A Viewer's Guide to Tonight's Debate
Given just how much has changed in the GOP race after the first debate and given the upcoming end to the fundraising quarter (Sept. 30!), the pressure is on for the 11 Republican candidates to perform at tonight's second debate in California at 8:00 pm ET. We'll find out which of the second-tier candidates (who all thought they'd be first tier by now) moves up or falls back. Think Walker, Paul, Rubio, Christie, Huckabee, and Kasich. Here's what each candidate needs to do:
Donald Trump: He needs to keep defying political gravity. Once again, he's probably going to feel like Bruce Lee in a Kung Fu movie -- with everyone (opponents, moderators) coming after him. Can he fend them off once again? He's also a candidate in need of a second act (we think). Can he put some policy meat on the bones?
Ben Carson: Can the mild-mannered Carson keep the momentum he has in the polls? Once you lose it, you often don't get it back. And this is his first time FRONT and CENTER. So he can't just disappear for periods of a time, even if he wants to.
Jeb Bush: Tagged as Mr. Low Energy by Trump, Jeb needs to be able to flex his muscles -- especially with Republicans looking to see how he might fare against Hillary. He also should be prepared for other candidates NOT named Trump to come after him as a way to show off their OWN anti-establishment bona fides.
Marco Rubio: Maybe no one had a better debate last time around but so little to show for it afterward. He might be the most talented unscripted pol in the stage. Can he show it again?
Scott Walker: Maybe no one needs a strong performance more than Walker does. From first or second in the polls to 10th place, Walker needs to turn things around ASAP. As aides told NBC's Kelly O'Donnell: "If he gets the chance to mix it up, he's going to" do that.
Carly Fiorina: Like Carson, she needs to keep her momentum. And with a likely clash coming with Trump, she can't back down. (As she told CNBC's John Harwood: "Mr. Trump's going to be hearing quite a lot from me.")
Ted Cruz: As he's become Robin to Trump's Batman, can Cruz steal the spotlight, especially with a possible government shutdown looming?
Mike Huckabee: He sure got his Kim Davis moment a few days ago (and largely shut out Cruz from sharing the stage). With a Davis question likely coming, can Huckabee demonstrate, like he did in 2007-2008, that he still has what it takes to be the GOP's best debate performer?
Rand Paul: Paul was definitely feisty in the first debate, but it didn't get much traction. What does he do to stand out this time? Like Walker, he's a candidate who, financially speaking, badly needs a good showing.
John Kasich: His advertising push in New Hampshire has paid dividends so far. Can he use this debate to catapult himself in the national polls, too?
Chris Christie: In addition to Walker, Christie needs a strong performance -- just to avoid being left out of the conversation heading into October's third GOP debate.
And, as we noted previously, while initial denial by virtually everyone, especially the so-called pundits none of whom anticipated Trump's unprecedented surge in the polls, turned slowly into much publicized anger, now comes the bargaining phase, and as Bloomberg political commentator Mark Halperin who admits spending "about 60 percent of my waking hours talking about Donald Trump" explores, the panicked GOP establishment is now scrambling to find ways to "stop" the Trump Juggernaut.
According to him, the core GOP and especially his republicans contenders, may attack Trump through four possible frames:
Trump can't be trusted because he is an egomaniac with a bad character.
Trump is a liberal and unprincipled.
Trump is not close to being fit to be a serious president or commander-in-chief.
Trump is a politician, not a businessman/outsider.
But what Trump (and every GOP establishmentarian) really cares about...