World stocks hit a new record high on Monday, as U.S. index futures followed Asian stocks on better-than-expected company earnings and strong US jobs data deflected attention from the rising geopolitical tension over North Korea's nuclear program. European stocks traded near session lows while Crude oil prices fall. The Bloomberg Dollar Spot Index was little changed ahead of speeches by the Fed's James Bullard and Neel Kashkari later Monday. Yields on U.S. and German Bunds rose off one-month lows hit at the end of last week, while the yield on China's 10-year sovereign bonds climbs 3 bps to a two-month high of 3.67%,after Friday's better-than-expected jobs data brightened investors' outlook for the U.S. economy.
The Dow Jones recorded its eighth consecutive record high on Friday, with MSCI's broadest index of Asia-Pacific shares outside Japan adding 0.5% on Monday. Helping global stocks hit record highs, of the nearly 1000 companies in the MSCI world index that have reported, 67% have beaten expectations, according to Reuters data. Of the MSCI Europe companies having reported, 61% have either met or beat expectations. But focusing on industrial firms – of which many depend on exports, and are sensitive to a stronger euro – the beat ratio is just 37%. Also the U.S. dollar dipped slightly but held on to much of Friday's gains - its biggest daily rise this year - after data showed the United States created more jobs than forecast last month. As a result, the MSCI World index rose above a peak breached late last month, setting a new all-time high of 480.09 on Monday.
"The US made the most noise last week ... At the start of the new week, risk sentiment improved in Asia with investors continuing to show a certain degree of risk affinity," DZ Bank strategist Rene Albrecht said.
For some analysts, Monday's pull back in the dollar backs some views in markets that Friday's rally may not have legs. The dollar index, which tracks the greenback against a basket of six global peers, inched back 0.2 percent to 93.361. It rallied 0.76 percent on Friday, its biggest one-day gain this year. The dollar slipped 0.2 percent against the euro to $1.1796 per euro, after surging 0.8 percent on Friday.
"The most logical view here is the moves on Friday were clearly just a sizeable covering of USD shorts, from what was one of the biggest net short positions held against the USD for many years," Chris Weston, chief market strategist at IG in Melbourne, wrote in a note. For the dollar rally to gain momentum, the market needs to change its interest rate pricing, Weston added.
Despite another drain in liquidity by the PBOC overnight. which soaked up another CNY60 billion in net reverse repos, Chinese industrial commodity metal soared, led by aluminum futures while steel rebar surged as much as 6.4% higher, before closing up 3.0% as iron ore closed up 6.5%.
https://twitter.com/hashtag/Steel?src=hash

rebar futures in

https://twitter.com/hashtag/China?src=hash

closed 6.4% higher;

https://twitter.com/hashtag/IronOre?src=hash

closed 3% higher after surging as much as 6.5% intraday pic.twitter.com/xbFTMQY6Ql

— YUAN TALKS (@YuanTalks)

https://twitter.com/YuanTalks/status/894457913271394304
In the overnight FX session, kiwi slod 0.6% against greenback to 0.7368 while the euro rose as much as 0.2% to $1.1814, approaching its highest since early 2015, despite an unexpected drop in German industrial production in June. Output fell 1.1% in June after rising 1.2% in May, far below the estimated 0.2% increase and the first drop in six months. Production was up 2.4 percent from a year earlier. Still, with strong orders pointing to a likely pickup in manufacturing, the report is unlikely to mark a turning point for the German economy. Meanwhile, business confidence is at a record high and the Bundesbank sees growth continuing, even as momentum at the start of the third quarter lagged behind that of France, Italy and Spain for the first time in more than 12 years.
The common currency rebounded following a slump against the greenback in the wake of U.S. jobs data on Friday. With EUR-USD parity now long forgotten, the next "big thing" on FX traders' minds is whether and when EUR-GBP parity may be achieved (with some penciling in the end of the year).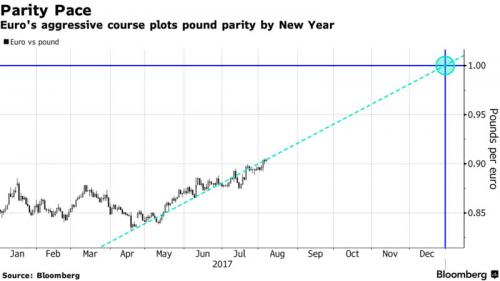 "I'm maxing on the euro at $1.20 at the moment, and I'm happy for it to be poodling along for a little while until something new and different comes long," David Bloom, global head of currency strategy at HSBC said in an interview with Bloomberg TV. "It could be tax reform in the U.S."
As Bloomberg writes, "the euro's continued resilience is a testament to growing investor confidence in the growth story of the European Union amid disappointment over U.S. President Donald Trump's failure get tax reform and infrastructure spending plans off the ground." Monday's report from Germany is unlikely to mark a turning point for either the nation's economy or the wider bloc, which has successfully navigated a series of political challenges while expansion accelerates.
Meanwhile, European stocks slumped near session lows after rising 1%on Friday, the most since July 12, thanks to the drop in the Euro. The STOXX Europe 600 Price Index declined 0.3%, led by drop in IT, travel and real-estate shares, offsetting advances for ArcelorMittal, BHP Billiton Plc and Anglo American Plc after iron ore and steel prices climbed.Travel and leisure shares fall 0.6%, tech retreats 0.5%' Basic resources surged 1.1%. Germany's DAX Index sank 0.2 percent.
Earlier, Japan's Topix index ended at a two-year high, boosted by earnings at Toyota Motor Corp., while benchmarks in Australia, South Korea and Hong Kong also gained. Toyota jumped 2 percent after it beat first-quarter profit estimates and raised its full-year forecast on Friday. Australia's ASX 200 (+0.9%) was led higher by commodity names after an early surge in Chinese Iron Ore futures, and as strong Australian Construction PMI (60.5 vs. Prey. 56.0)...
More