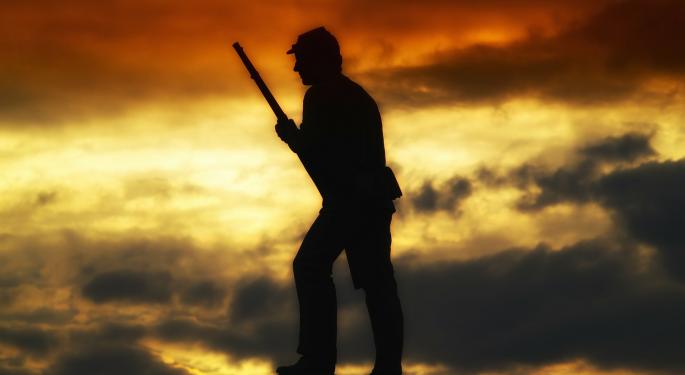 Electronic Arts EA 1.21% skyrocketed 17 percent over the last three days after reporting FY15Q1 EPS at $0.50 vs. estimates of $0.42, in addition to positive guidance last Tuesday. Afterward, Electronic Arts humiliated one of its main competitors on YouTube.
Over the last five years, one of Electronic Art's largest and most popular series, "Battlefield," has been competing heavily with Activision Blizzard, Inc. ATVI 2.12% "Call of Duty" series. Although both have been very successful in the past, as of last week, it seemed that Electronic Arts took the upper hand.
YouTube Humiliation
Electronic Arts' "" was announced on May 6 and has received more likes than any other video game trailer has ever received with 1.573 million likes in only two weeks of existence.
On EA's competitor side, Activision's "" trailer, which was posted four days before EA's Battlefield 1 trailer, is currently the second-most disliked video in history with 2.23 million dislikes, just behind Justin Bieber's "Baby."
The likability discrepancies have a lot to do with the new themes each game has taken. "Battlefield's" continued its dedication to the company's first-person shooter fans by announcing "Battlefield 1" set in World War 1. "Call of Duty," however, abandoned its large first-person shooter fan base by introducing a theme of futuristic space combat, which was not taken lightly by the video game community.
Additionally, increasing popularity through Electronic Arts' 2015 games could have been a factor. Electronic Arts was able to capture a large amount of new fans with its "Star Wars Battlefront" success in 2015, which "expanded EA's player base by 15 percent" according to the FY15Q4 earnings report.
Although Electronic Arts jumped 17 percent last week, much upside remains in FY16Q4 as "Battlefield 1" comes out in October and "Call of Duty Infinite Warfare" in November.
At Time Of Writing...
Activision was seen trading up 1.91 percent at $39.02.
Electronic Arts was trading up 0.82 percent at $75.86.
© 2016 Benzinga.com. Benzinga does not provide investment advice. All rights reserved.