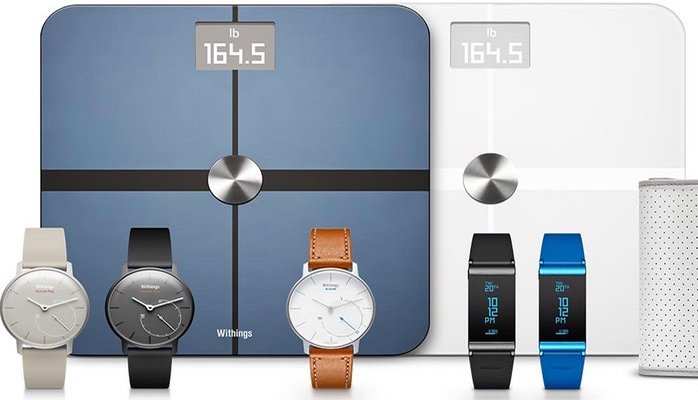 Two years ago Nokia famously sold its mobile phone business to Microsoft. The move left many of us thinking that the former behemoth would soon be relegated to the history books. Well, it seems this sleeping giant is about to reinvent itself for the digital age. Plans are underway to acquire the digital healthcare and wearables company, Withings, for an estimated $192 million.
Withings' ethos is to "[empower] people to track their lifestyle and improve their health and wellbeing" through a wide range of wearable tech and gadgets.
Fitness trackers that monitor blood pressure, temperature, and sleep, and even home security all forestall Nokia's investment in the future—and their abandonment of the past. President of Nokia Technologies Worldwide, Ramzi Haidamus:
"Withings shares our vision for the future of digital health and their products are smart, well designed and already helping people live healthier lives"
Gartner forecasted that wearables would grow from 232 million units sold in 2015 to 322 million by 2017, a growth of 39 percent. This presages substantial growth in the digital health market, where there is a vacuum waiting to be filled; as of now, there are no clear industry leaders.
Could this mark the start of a race among companies vying to dominate the emerging health and well-being market?
If You Can't Beat 'Em, Find Another Battleground
Although the acquisition is expected to close in Q3 2016, Nokia's intentions are crystal clear. Rajeev Suri, President & CEO of Nokia:
"With this acquisition, Nokia is strengthening its position in the Internet of Things in a way that leverages the power of our trusted brand, fits with our company purpose of expanding the human possibilities of the connected world, and puts us at the heart of a very large addressable market where we can make a meaningful difference in people's lives."
There is an argument that with the acquisition Nokia will have wisely navigated away from the oversaturated smartphone market. What's more, $192 million for a brand that profoundly understands the digitally connected health movement could turn out to be the bargain of the century.
At first glance, the decision to be reborn into IoT and wearable tech might seem outlandish. If anything, the approach is very similar to the early days when Nokia was particularly focused on research & development. That was partly the reason they attained such market success.
Nokia: A Brief History
Many will remember that in 2008 Nokia's brand value was ninth globally, at $33 billion, only to nosedive to $2 billion in 2014. However, under the radar, they got busy amassing patents for a formidable resurgence in conquest of the glory days.
As Nokia closes this chapter to begin writing anew, it's reifying to see another extraordinary example of a smart business pivot. A maneuver that is increasingly essential for survival in the 21st-century.
With its armament of patents, who knows what sorts of advancements Nokia will make to wearable health technology?
Connected Health & Well-Being on the Rise
Our obsession with monitoring daily steps, calories, exercises, and sleep patterns is incrementally gathering impetus. We now have leaderboards containing family, friends, and colleagues who motivate us into replacing bad habits with good ones. The technology is there and the social capital is mounting.
In the health sector at large we are just tapping into how real-time data and biofeedback can empower patients suffering from all manner of conditions and how minute-to-minute tracking can improve efficiencies, safety, and even reduce admissions in hospitals.
Cybersecurity and privacy concerns remain perils of digital healthcare—as they do for most digital technology. Despite the risks, it's widely assumed that there will be more gain than pain from technology innovations in this sector.
Riding the IoT wave early, while other companies scope out the horizon and consider their next move, could insure Nokia Technologies an unexpectedly salubrious future.
Published on Retire.ly with permission from Anurag*