In the week since China shocked the world by devaluing the yuan by the most on record, emerging markets - already beset by falling commodity prices, sluggish Chinese growth, a looming Fed rate hike, and a number of idiosyncratic risk factors both economic and political - descended into chaos. 
On Friday we documented a Malaysian meltdown which saw the ringgit slide to its lowest level since 1998 as a $10 billion bond maturity aggravated an already precarious situation, sending the country's currency, stocks, and bonds into a tailspin. 
Brazil faces both economic and political crises as a nasty bout of stagflation and ballooning deficits portend further pressure on the real while calls for the impeachment of President Dilma Rousseff have reached a fever pitch. 
In Turkey, the lira is plunging to new all-time lows against the dollar and bond yields are spiking as the central bank's failure to address claims that it isn't prepared to cope with the normalization of monetary policy in the developed world only served to make a bad situation worse as the country faces a political crisis and an escalating civil war.
Finally, in Indonesia, trade collapsed in July, with imports and exports falling 28% and 19% respectively as the country's central bank is caught between a plunging rupiah (which is nearing multi-decade lows) and the effects of Beijing's devaluation (reduced export competitiveness and an increase in the price of goods China imports). 
And these are but a few examples.
In short, the path ahead is riddled with exported deflation (incidentally, Indonesia may have a cushion here as it's the only Asia ex-Japan economy not coping with PPI deflation) and decreased trade competitiveness for a whole host of emerging economies and all of this is set against a backdrop of declining global growth and trade, a trend which many had assumed was merely cyclical, but which in fact may prove to be structural and endemic.
Given the above, it should come as no surprise that fund managers' positioning on EM relative to DM is the most extreme on record as shown in the following chart from BofAML's global fund manager survey.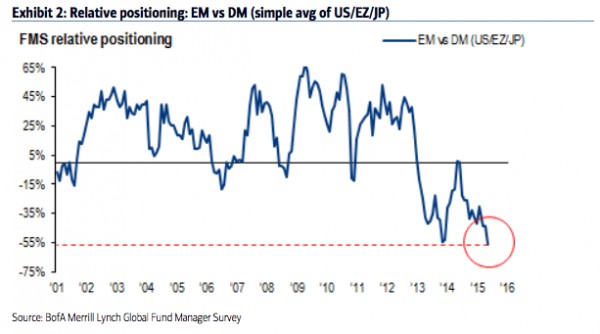 And as you might have imagined, sentiment towards EM has deteriorated markedly since last month: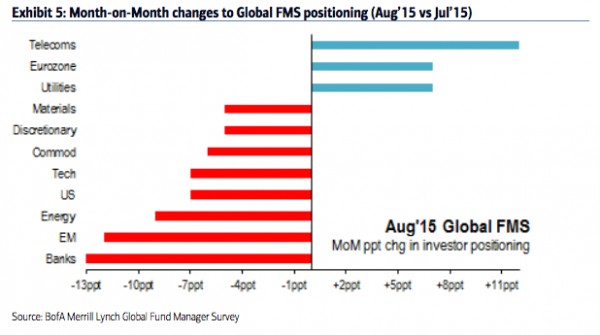 While relative to history, the space is underowned - by a lot: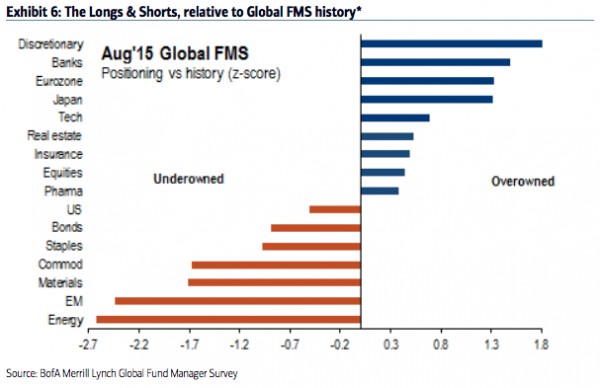 For their part, BofAML is taking the contrarian angle, recommending a long EM (and commodities) position going into Septemeber. 
Consider that, then consider everything said above, and trade accordingly. Or don't.