Rockwell Collins's shares will reach $100 by 05.02.2015

2 april 2015
Rockwell Collins (COL), a leading producer of avionics and information technology systems, recently published a strong report for Q1 2015. Quarterly revenue increased by 16.3% y-o-y. Electronics sales in the commercial segment became a key revenue growth driver (+9% y-o-y). EBITDA rose 29.5% y-o-y, while EBITDA margin climbed 2.5 pps y-o-y. Adjusted EPS jumped 26.0% y-o-y.
The company generates a sizeable cash flow, allowing Rockwell Collins to buy back its own shares and pay generous dividends. Operating cash flow amounted to USD 60 mn in the reporting quarter compared to USD 24 mn last in the previous year. The company spent USD 40 mn on dividends (compared to USD 41 mn a year ago), implying a 1.3% dividend yield and USD 173 mn on the repurchaseof own shares (compared to USD 22 mn a year ago).
Management of Rockwell Collins is upbeat about future prospects. According to the company's guidance for FY15, revenue is expected to reach USD 5.2-5.3 bn (up 4.4-6.4% y-o-y), adjusted EPS will increase to USD 5.1-5.3 (up 11.11-15.5% y-o-y).
We believe that Rockwell Collins will continue to improve its financial performance due to recovery of the global economy and growing demand for air transport. These factors, along with higher dividends and buyback program, will boost the company's share price in the mid-term.
Our mid-term fundamental valuation of Rockwell Collins (COL) shares is USD 105, and the short-term technical target is USD 100.
<!== INSTRUMENT %% %1440% ==!>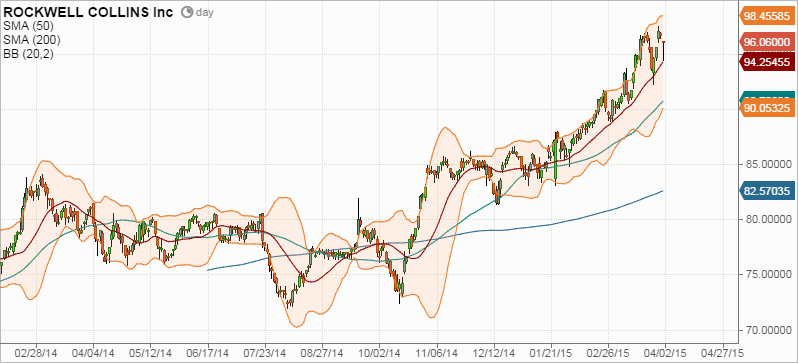 Voting is over
Waiting for


the right answer