EUR/CAD has been consolidating in February.The 4H chart below shows the market coming down from 1.4490 and then slipping into a sideways consolidation range roughly between 1.4075 and 1.4340.

EUR/CAD 4H Chart 2/26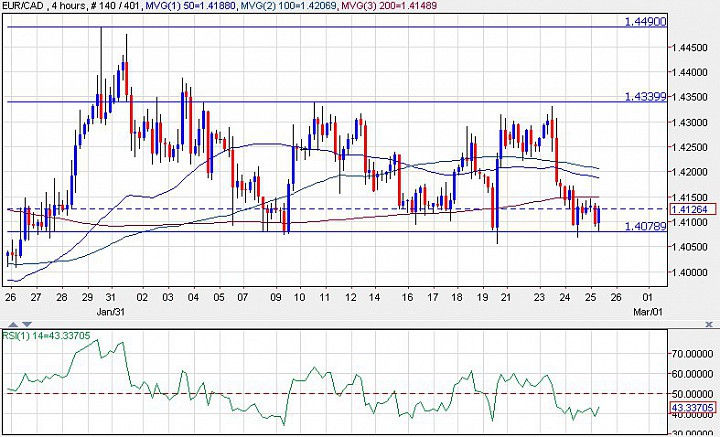 (click to enlarge)
The 4H chart shows the pair now testing that consolidation range support. If it can climb back above 1.4150, traders might see the support being respected, and keep EUR/CAD in the consolidation range. Now, if price doesn't push back above 1.42 however, the pressure will remain to the downside.

If price does breaks above 1.42, the pressure goes back up to the 1.43-1.4340 highs. A break above 1.4349 would open up the 1.4490 high.

What if price falls below 1.4075? 
In the daily chart, we can see that EUR/CAD has been choppy since September. Before that the pair was bearish.

EUR/CAD Daily Chart 2/26


(click to enlarge)

The multi-month consolidation can be seen as an expanded range - higher highs and lower lows. During this consolidation, note that price held below the 200-day SMA. That bearish bias still remains in play today.

The expansion seems to be over because the last resistance pivot was under 1.45, which was below the high prior to that at around 1.4650. Does that  mean, the market is ready to continue its downtrend. I believe so, but there is also the diamond consolidation scenario. An expansion followed by contraction is sometimes referred to as a diamond, and assessed as a reversal pattern. Now, if price falls below the current consolidation,and clears below 1.40, the diamond pattern scenario is not likely, and EUR/CAD would likely revive its prevailing downtrend, with the lows at and just under 1.38 in sight, and with risk of breaking lower.

However, a break above 1.44 would say that this could have been a diamond pattern, in which case EUR/CAD would expose the 1.4650 high, with risk of breaking higher.