The Dow Chemical Company DOW inked two agreements that will help it to advance innovation and strategic agenda in the Kingdom of Saudi Arabia ("KSA"). The deals will bring state-of-the-art manufacturing technologies to KSA, supporting the Kingdom's Vision 2030 for advanced manufacturing development plan and economic diversification.

Per one of the agreements, Dow will construct advanced manufacturing facilities to produce varied range of water-treatment applications and polymers for coatings. The proposed investment also includes feasibility study of the proposed investment in the company's Performance Silicones franchise.

The coating facility, located in PlasChem Park in Jubail, will address the needs of the Saudi Arabian market with an innovative range of acrylic-based polymers for water-treatment, industrial and architectural coatings and detergent applications. The facility will complement Dow's existing coating capacities in the Middle-East, including Dubai, Jebel Ali and United Arab Emirates.

The proposed silicones investment includes construction of a fully integrated high performance silicones and world-scale siloxanes complex. The products manufactured from these utilities are aimed at industries and markets like personal and home care, solar energy, high performance building and construction, automotive, medical devices, and oil and gas.

The project, upon completion, will support the economic impact of KSA through creation of roughly 350 full-time technology jobs. The investment will also open up about 1,000 jobs during the peak construction season. It will also create about 100 high-skilled and full-time operational jobs in the Kingdom that will support sustainable economic growth and ramp up domestic manufacturing.

Dow has been long-term strategic partner in Saudi Arabia for almost 4 decades. It is also the largest foreign investor in the country. Dow became the first company to obtain trading license from the Government of Saudi Arabia, permitting full ownership in the trading sector.  

Dow maintains several joint ventures in the region including Saudi Arabian Oil Company (Saudi Aramco) and Sadara Chemical Company. Sadara is one of the world's largest integrated chemical facilities comprising of 26 manufacturing units, of which 19 units are either in start-up or operating mode. The deal will integrate the former Dow Corning silicones business into Dow, accelerating the development of new hybrid materials and unique technologies for regional-specific needs.

Dow's shares have declined 3.3% in the last three months, underperforming the Zacks categorized Chemicals-Diversified industry's dip of 0.3%.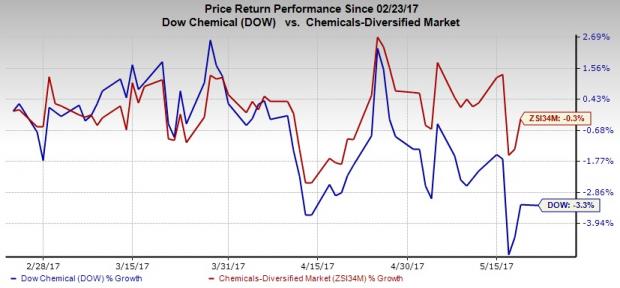 Dow topped earnings expectations in first-quarter 2017, on the back of cost-cutting and productivity actions and continued focus on consumer-driven markets. The company is witnessing strong demand across major consumer-focused markets such as packaging, infrastructure, transportation and consumer care, which is contributing to volume and earnings growth.

However, Dow is exposed to currency headwinds and the company sees an impact of 3–6 cents per share from headwind associated with foreign exchange translation in second-quarter 2017. This is expected to largely offset the benefits from productivity actions.
Dow Chemical Company (The) Price and Consensus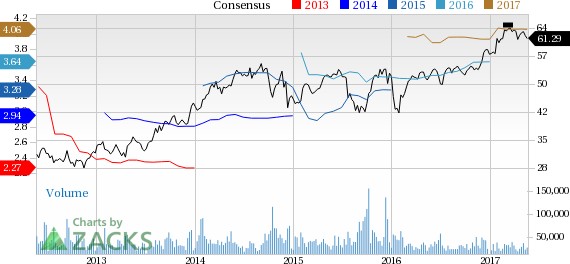 Dow Chemical Company (The) Price and Consensus | Dow Chemical Company (The) Quote
 
Dow currently carries a Zacks Rank #3 (Hold).

Stocks to Consider

Better-ranked companies in the basic materials space include Kronos Worldwide Inc. KRO, Methanex Corp. MEOH and ArcelorMittal MT. All the three stocks sport a Zacks Rank #1 (Strong Buy). You can see the complete list of today's Zacks Rank #1 stocks here.

Kronos has an expected long-term earnings growth of 5%.

Methanex has an expected long-term earnings growth of 15%.

ArcelorMittal has an expected long-term earnings growth of 11.5%.

Zacks' 2017 IPO Watch List

Before looking into the stocks mentioned above, you may want to get a head start on potential tech IPOs that are popping up on Zacks' radar. Imagine being in the first wave of investors to jump on a company with almost unlimited growth potential? This Special Report gives you the current scoop on 5 that may go public at any time.

One has driven from 0 to a $68 billion valuation in 8 years. Four others are a little less obvious but already show jaw-dropping growth. Download this IPO Watch List today for free >>
Want the latest recommendations from Zacks Investment Research? Today, you can download 7 Best Stocks for the Next 30 Days.
Click to get this free report
Dow Chemical Company (The) (DOW): Free Stock Analysis Report
Methanex Corporation (MEOH): Free Stock Analysis Report
Kronos Worldwide Inc (KRO): Free Stock Analysis Report
ArcelorMittal (MT): Free Stock Analysis Report
To read this article on Zacks.com click here.
Zacks Investment Research